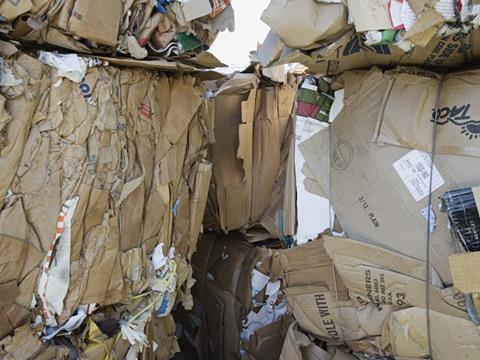 Tom Garsed, Marketing Design and Innovation Director at Graphic Packaging International (GPI), discusses the sustainability credentials of cartonboard packaging beyond recyclability.
With growing consumer concerns about the impact of packaging on the environment, there is rising demand for more sustainable packaging solutions to replace plastics. "Contrary to common misconceptions however, sustainable packaging development should not focus solely on recyclability," according to Mr. Garsed.
"Many consumers consider packaging to be wasteful and harmful to the environment and are increasingly calling for manufacturers and retailers to cut out materials such as plastic and utilise natural, eco-friendly food packaging materials instead," says Garsed. ''In today's marketplace, where food that's free from sugar, gluten, dairy and other ingredients is widely available, complimentary packaging options like cartonboard are increasingly viewed by the public as the obvious choice.''
In the packaging industry it is understood that there is widespread disparity between the public perception of sustainability and its reality. Regardless of this, consumer trends have a huge part to play in new product development. For example, a recent study by Populus found that ninety-one percent of consumers want a plastic-free aisle in supermarkets. An emerging trend such as this, often amplified by rapid globalisation, can quickly establish a packaging material as à la mode, or out of favour.
"It could furthermore be argued that if there was greater education about sustainability, stricter regulations on household recycling and infrastructural developments, sustainability would become less associated with recycling," continues Garsed. "Lightweighting, reduced resources, a lower carbon footprint and the replacement of less sustainable materials are just some of the lesser communicated sustainability benefits that cartonboard can offer."
That said, cartonboard offers an environmentally sound starting point in terms of recyclability. One of the most sustainable packaging options available, cartonboard is manufactured from renewable raw materials and is 100% recyclable. Combating misconceptions about wastefulness, cartonboard uses sawmill sweepings and cellulose fibres recovered from timber and waste paper, minimising waste and requiring less energy to produce than most other packaging materials.
The manufacture of cartonboard also promotes ethical, sustainable practices in manufacturing, with Pro Carton member companies using only certified forests to source timber for pulp and using thinnings rather than mature trees. In managed forests, more trees are planted than cut in order to protect the environment and secure an infinite supply of timber, helping to mitigate greenhouse gases by absorbing CO2 from the atmosphere. Furthermore, cartonboard is a compostable and biodegradable food packaging source, giving it an endless life cycle by helping to create more of the trees from which it is made.The cartonboard industry therefore benefits rather than harms the environment and, in the EU, more paper-based packaging is recycled than every other material combined, according to the Confederation of European Paper Industries. This would indicate that cartonboard really does provide the answer to the future of packaging recycling and its credentials have the power to transform the way sustainability is approached.
''Utilising cartonboard is a great way to bridge the gap between the genuine need for packaging and consumers' environmental concerns while providing adequate product protection and preservation," adds Garsed. "Its strength and flexibility enable it to prevent damage throughout the supply chain while also promoting shelf appeal, supporting a huge range of structural designs and finishes for different markets.''
If public desire for a significant move towards renewable packaging continues – as the Populus survey highlights – the versatility and eco credentials of cartonboard will make it an even more sought-after commodity in the sector.
As a leader in paper-based packaging solutions, GPI, recognises that cartonboard is the sector's key to sustainability and uses it as a formidable base from which to create pioneering eco-friendly products.Garsed says: ''Sustainability is at the heart of everything we do – and cartonboard is the ideal renewable, recyclable and biodegradable food packaging material to deliver the level of innovation and structural integrity that's required for our modern, sustainable packaging solutions. Cartonboard allows us to minimise our impact on the environment, while providing the security that products need in a responsible manner.''
''We create cartonboard products that can perform functions traditionally executed by plastic packaging, leading the industry in the innovation of environmentally viable solutions. From our reinforced monomaterial Tite-Pak® beverage cartons which reduce bottle breakage, to our susceptor technology-based microwavable Cooking Solution cartons, we believe that the sky is the limit for renewable materials.'' But for all cartonboard's virtues, does it really provide the answer to addressing the war on less sustainable packaging materials without causing further damage to the planet? Can it really do the jobs we need it for, like adequately protecting and preserving fresh food? Approximately one third of food produced for human consumption around the world (1.3 billion tonnes) is wasted even with the use of plastic packaging, so a sustainable alternative must at least not exacerbate this.
Cartonboard is increasingly prepared for the challenge, with a variety of board types ready to address the issues presented by different sectors. For example, GPI's Aqua-Kote® virgin fibre board is used extensively for the company's beverage customers due to its superior wet-strength properties. The use of Aqua-Kote® ensures a beverage pack retains its integrity when packed in wet and humid areas and also when refrigerated.
GPI is constantly developing new technologies to expand the ecologically balanced material's potential and enhance its uses with improved gas, moisture and aroma barriers. The company is also driving the development of cartons with biodegradable coatings such as E-Coat® Environmental Solution. These water-based coatings provide outstanding barrier protection for bakery and frozen food products, as well as being recyclable and repulpable.
As a reflection of the need to compete with the high-performing barrier protection of other fresh food packaging materials, industry-wide innovations are even being made in aseptic carton packaging. The ability to satisfy the strong barrier protection required for preserving products such as meat would further reduce the need for plastic with renewable plant-based materials.
Garsed added: ''GPI believes that advancements in cartonboard innovation, in line with growing consumer demand for more natural, eco-friendly packaging solutions, represent the future of sustainable packaging. With four Global Innovation Centres across the wider GPI business dedicated to creating ground-breaking packaging materials and formats, we're at the forefront of sustainable innovation. From innovation to operational excellence, we are constantly pushing the boundaries for renewable packaging alternatives.''
More info: