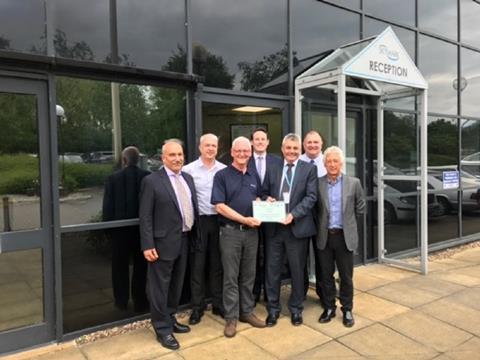 This year marks the 30th anniversary of the partnership between Sun Chemical and UK packaging manufacturer, Skymark.
Sun Chemical has been the main inks supplier to Skymark since the company was established in 1987, supplying 95% of Skymark's wet material including inks, lacquers and coatings for the flexible packaging market for food, hygiene, personal care and medical products.
As Skymark's business has grown over the years, so has its requirements for inks. Today Skymark has four printing presses, which are capable of printing up to 10 colours, with a combined print output of over 45 million metres a month across a range of substrates including PE, OPP, laminates and paper.
Paul McCoy, National Sales Manager, Liquid Inks UK & Ireland at Sun Chemical comments: "We're delighted to be able to celebrate this landmark anniversary with Skymark. Thanks to the quality of Sun Chemical's products, expertise and service, we've built a mutually beneficial relationship with Skymark over the last 30 years. During this time the flexible packaging market has developed and we've been on hand with the latest developments and products to help Skymark move forward with the market. Indicating the depth of our relationship we also have a dedicated Sun Chemical employee based at Skymark's Scunthorpe site who manages the ink department and ensures the accurate delivery of ink to press."
Paul Neath, Operations Director, Skymark Packaging Limited comments: "We have always had a close relationship with Sun Chemical, who has supported Skymark through the ups and downs of our business, none more so than when in 2009 we lost our main print facility due to a fire. We value the 'partnership' very highly, the continued in-depth support from Sun Chemical's in-plant, technical and sales teams help Skymark to remain a highly dedicated supplier to our customer base."
More info: