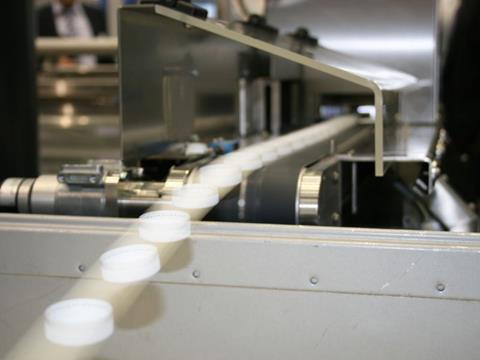 Consuming up to 20% less energy than its predecessors, Sumitomo (SHI) Demag is bringing two energy enhanced El-Exis SP machines to K-2019 - a large and a smaller version. Catering specifically to the packaging moulding markets, the ultra-high speed range ensures manufacturers never need to compromise on quality, production efficiency or sustainability.
"Capable of delivering the lowest dry cycle times, the machines in the latest series have high process consistency and high energy efficiency," explains Arnaud Nomblot, Director Business Development Packaging at Sumitomo (SHI) Demag.
Central to the machine's fast cycle time is the hydraulic accumulator, which achieves injection speeds of up to 1000 mm/s. This enables moulders to produce even thinner packaging items. The range is also one of the fastest machines in the market for injection dynamic. "The combination of speed with high quality moulding repeatability helps to minimise packaging production waste," adds Nomblot.
The future of LSR moulding
With the global silicone elastomers markets forecast to be valued at USD 9.34 billion by 2026 , LSR is fast becoming the material of choice for specific applications in the digital electronics and automotive segments.
Sumitomo (SHI) Demag will demonstrate its technical LSR know-how and the process of moulding light guides for a matrix light at K-2019 on a special IntElect 130. "LSR provides very good optical features, withstands high temperatures, offers high chemical and UV resistance and high electrical isolation capabilities, plus gives plenty of design freedom," comments Thomas Kottler, Project Manager for LSR at Sumitomo (SHI) Demag.
"Moulding LSR requires high precision and process stability," highlights Thomas. The latest IntElect systems achieve extremely precise shot control with the low-viscosity material. Units feature a specially designed screw, ranging from 14mm to 45mm, a modified plasticising unit, a shut off nozzle specifically designed for LSR, and a spring loaded non-return valve to achieve the highest processing consistency.
A new and innovative preferred partnership in the LSR market will be unveiled by Sumitomo (SHI) Demag closer to the exhibition.
Medical IntElect S heralds new era for cleanliness and sustainability
The IntElect S 180-tonne is another new machine being unveiled. Aimed squarely at mass manufacturers of medical plastic components, the machine has been specially built for extremely narrow tolerance applications requiring fast cycle times between 3 and 10 seconds.
Cleaner, cooler, faster, quieter and more energy efficient, the layout of the mould space ensures the IntElect S is clear of contaminants, particles and lubricants. GMP-compliant, it's the ideal machine choice for medical cleanroom environments. The machine also has a longer lifespan, boosting Total Cost of Ownership for medical moulders.
Product manager Peter Gladigau confirms: "We have conducted extensive machine and part lifecycle durability tests for the IntElect S, comparing to equivalent all-electric injection moulding machines on the market. These tests have confirmed that the enhancements we have made to our high performance drives clearly increases the machines' lifespan and consequently improves TCO. Even testing clamp spindles under the hardest conditions, there was no evidence of visible wear after millions of cycles."
Plug and play kit for affordable multi-component moulding
Customers with existing Sumitomo (SHI) Demag machines can now extend their capabilities from a single moulding to a multi-component flexible operation with minimal investment costs. At K-2019, Sumitomo (SHI) Demag will unveil its latest innovation - the eMultiPlug.
Designed for plastic moulders who want the option of transforming their existing moulding system into a multi-component press, the eMultiPlug uses the same drive as the IntElect machine. As an independent unit, eMultiPlug can be retrofitted to an existing machine, making multi-component injection more cost efficient and feasible.
"From an economical perspective, having the option to expand an existing machine's capabilities is another way that supports flexible production and extends the lifespan of equipment," adds product manager Peter Gladigau.
Depending on production requirements, eMultiPlug can be mounted onto the machine in a vertical or lateral configuration.
To view all of the latest developments in plastic moulding, visit Hall 15, Booth D22, 16 to 23 October 2019.