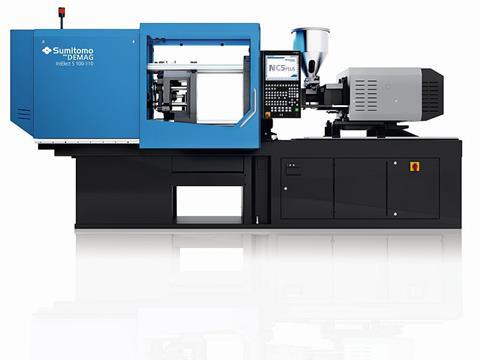 Built for speed and precision, Sumitomo (SHI) Demag has unveiled its newest IntElect - the S series all-electric machine. With its upgraded motor design and a package of added features, the machine fills an important gap for the thin-wall packaging segment, described by the company's UK MD Nigel Flowers as the twilight zone.
Until now, packaging moulders, especially those operating in the thin wall arena, have opted for speed - three-to five second cycle times - over energy efficiency and process stability. "Typically there's almost no latency with a fast cycling machine and so the opportunities to reduce energy has until now been more difficult to achieve, especially on hybrid machines used predominantly in mass-manufacturing of packaging," comments Nigel. However, with the IntElect S, there's no need to compromise on any aspect.With many packaging applications involving high quantities and low part weight, the improved dynamics and energy savings will prove to be indispensible to a moulders' productivity and competitiveness.
Available with clamping forces between 500 kN and 1,800 kN and with injection speeds between 350 and 500 mm/s, the machine has been specially built for extremely narrow tolerance applications requiring fast cycle times between 3 and 10 seconds. Depending on production parameters, energy usage is lowered to 0.32kWh per kg. These savings can primarily be attributed to the new highly dynamic 400v motor design, which has no transformer, is shorter and features new types of spindle. With a mould open time of 0.9 seconds, and a total cycle time of 4.65 seconds, the S model outperforms previous generations of IntElect machines for mould movements, injection and metering speeds and ejector movements, with an average reduction of between 0.5 and 1 second cycle time. Testing and comparing dry cycle times with equivalent electric systems on the market also places the IntElect S at the forefront of innovation, and its competitors.
Right from the outset of the development of the IntElect S series, the company has been resolute that performance, service life and energy consumption should play equally important roles and that no sacrifices should be made in this respect, notes Nigel.
It's easy to assume that pushing a machine faster reduces its lifespan. Yet, having been put through its paces during extensive lifecycle and durability tests, enhancements to the clamp and ejector provide evidence to the contrary. Nigel explains: "The clamp on the IntElect S features a bigger motor and a shorter, stronger spindle. Additionally, with the lifetime of capacitors affected by temperature, the machine's higher capacity and encapsulated windings improve heat transmission. Both the clamp and ejector were tested under harsh conditions on the IntElect S 100 using highly dynamic ramps and a maximum mould weight. After completing the durability tests, which comprised a 2.6s cycle and 5.2s cycle, the spindle looked and measured like new."
To demonstrate this impressive performance capacity on a thin-wall packaging application, at Fakuma 2018 Sepro Robotique GmbH is showcasing an IntElect S 180/ 560-700 running with a SDR Speed 7 robot. Parallel to the launch of the IntElect S, Sumitomo (SHI) Demag will also introduce their new "SDR Speed" robot series.
Globally, the company has installed more than 65,000 all-electric machines with almost half of the machines sold in the last 12-months from the IntElect product portfolio. According to product manager Peter Gladigau, that's well above the Euromap average of around 20% for all-electric machines.