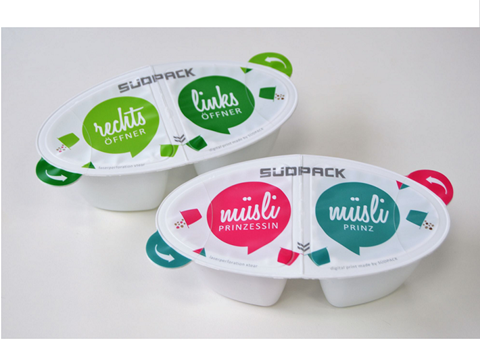 Easy processing on standard packaging machines
The laser perforation also makes life easier for food manufacturers. Film that has been enhanced with xtear can be processed on standard packaging machines without additional equipment. This keeps production processes lean, and avoids further investments for Südpack customers. Südpack film specialists support customers in the design, implementation and optimization of laser perforations. Application technicians test sample films on the customers' equipment on-site.
Laser processing as an additional finishing option from Südpack
Südpack technicians use an in-house laser system to perforate film for easy opening, targeted gas exchange, or for valves and other additional features. "We see the laser process as a finishing option of the future, one that will become widely established in the coming years," says Johannes Remmele. "Our in-house laser equipment enables us to offer customers a wide range of finishing options to attract attention to their products on the supermarket shelf and to convince consumers using the product."
The laser system processes film lengthwise or crosswise in the direction of movement or applies laser contours to the film. For laser processing, Südpack uses composite film consisting of a sealing layer and a substrate. The film's substrate is removed precisely, the barrier layer remains fully intact.
More info: