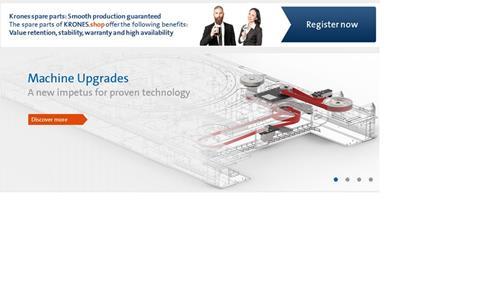 Last August, Krones UK launched a new service, to all its customers in the UK and Ireland, enabling them to obtain their own quotations for spare parts based on the Operations Manual of their specific machine. Since the service was introduced there are now over 600 clicks per month on the Krones.Shop.
Nigel Leah, Life Cycle Service Business Manager at Krones UK said, "The reaction to the new Krones.Shop has been really impressive from our customers, we initially said that we would have the machine specific mechanical manuals online for every Krones machine dating back to 2005 on the system. We are now in the process of expanding this for older machines that we know are in constant use here in the UK."
Nigel continued, "This is a completely free of charge service for any customer with Krones machinery, if they are registered on the system it allows them to access their machine manuals on-line. This then enables them to view both their mechanical and electrical drawings and see individual parts prices which they can order instantly and if available they can be dispatched immediately. For routine maintenance and planned overhauls, parts can be ordered via the Krones.shop and fitted by a Krones technician and, again, to ensure a comprehensive visit, a service request can be made in the same portal. There is no limit to the number of users that each customer site can register. This is advantageous for clients running slightly older machines where perhaps only one set of manuals were ordered at the time of installation and have become dog-eared over time. Now customers have a pristine manual available online that can be viewed on a desktop PC or mobile tablet device."
The Krones.Shop also highlights any machine upgrades that are available for a customer's specific machine. These upgrades can give additional benefits and are categorised by increasing efficiency, reducing environmental impact, reduction in media usage, increasing quality and improving operator function. This demonstrates to customers that new technology can be incorporated into older machines, which can extend the life of a machine.
Nigel concluded, "The Krones.Shop has already proved to be of great benefit to us here at Krones UK internally and externally. Our customers can now create their own instant spare parts quotation at the click of a button. It has also benefited our Service Engineers who now have relevant up-to-date machine information literally at their fingertips.
Customers who want further information on the Krones.Shop, can either contact Krones UK directly or visit Krones' stand at the upcoming drinktec exhibition on the 11th-15th September in Munich, Hall B6, to discuss the merits of the Krones.Shop with a member of the Krones UK team.
More info: