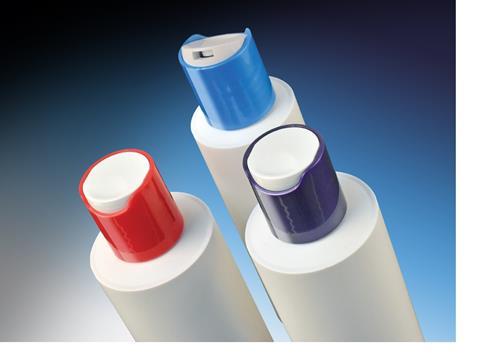 Spectra has added a new disc top closure to their extensive range of injection-moulded offerings.
Perfect for a personal care applications such as body creams, lotions, shampoos and soaps, the new 24/410 disc top closure (Ref: 3033) is bore sealed for optimum performance and reliability.
Jonathan Powell, Sales Director at Spectra said, "This stylish new closure provides an easy, one-handed dispensing solution for a range of applications. Furthermore, we can provide it in minimum order quantities, which offers genuine flexibility for customers seeking a complete packaging solution."
Spectra's latest closure solution can be provided in single colour or mix and match bi-coloured body and disc options for a bespoke look. Designed to fit a variety of bottles within our comprehensive off-the-shelf standards, this new cap joins Spectra's other disc top, a distinctive looking flared disc-top (Ref: 3026).
Jonathan added, "We strive to develop new standard components to give customers maximum versatility for their products and there are a number of benefits in taking one of our caps with a Spectra bottle."
He went on to explain, "Using a single source supplier for both bottle and cap provides real peace of mind. Our caps have been developed and tested to offer genuine reliability. What's more, a single source fully synchronised delivery commitment provides a stress free, under-one-roof service as opposed to using two manufacturers with fragmented lead-times."
More info: