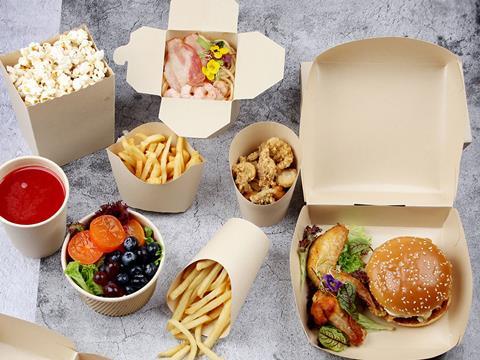 This newly developed "plastic-free" material is certificated as industrial/home compostable, recyclable, and microwavable. "Ecoloop" series products give users the best option in terms of "eating in a healthy and green way". At present, "Ecoloop" is applied in drinking cups with accessories, but in the near future, Sowinpak will make it apply to most food packages. Sowinpak's technicians never give up on developing and making better innovative packages.
"Ecoloop" has overturned the traditional plastic package and brought the idea of "start from Nature, back to Nature" to the food package industry. It is a kind of food-safe aqueous dispersion coating that can be recycled or composted after use. In this way, it enables the closed-loop.
Under the influence of COVID-19, the demand for takeaway food and takeaway packaging has recently soared. Sowinpak have upgraded their packaging in terms of material and design, to make it stand out from the crowd. By using a PP/CPET coating material, which is microwavable and ovenable, the packaging maintains the original taste and flavor at any time. Regarding design, the multi-compartment food tray/box enables you to enjoy different food at the same time. Not to mention, all the paper packaging manufactured by Sowinpak is either recyclable or compostable.
Aside from "Innovation", "Concentration" is another keyword for Sowinpak. They have always sought to contribute to a healthier environment. Join them, to make a better world!
This content was sponsored by Sowinpak.