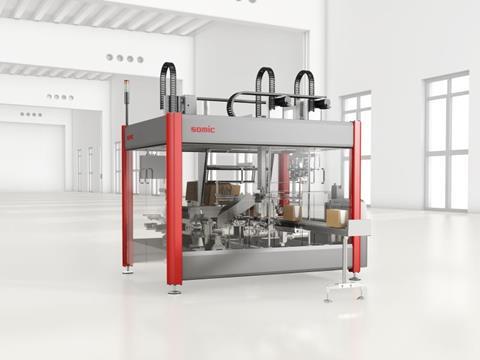 In addition to the individual packaging machines from the SOMIC 424 series, SOMIC presents a new product at FachPack in Nürnberg this year.
The SOMIC ReadyPack cardboard packaging machine is a compact model for standard tasks. It is preconfigured either as a tray packer or as a wraparound packer for one-piece cardboard packaging and can be delivered within a very short period of time.
With the new SOMIC ReadyPack, a new era begins for the family-run company which has existed for 45 years, opening up an additional market segment. As an entry-level model, it is primarily intended for emerging companies. SOMIC's President, Patrick Bonetsmüller, summarised the objective: "With this new design, we address progressive customers looking to switch from manual packaging to automation." Furthermore, this machine is a cost effective additional model in any modern consumer goods industry. Among other things, test runs, short-term applications or temporary special editions are an option here.
Despite the comparatively low investment, SOMIC has made no compromises regarding the quality of the SOMIC ReadyPack. The machines are manufactured using the same "Made in Germany" components and modules as those used in the larger and custom made models. Assembly also takes place at the German headquarters in Bavaria.
Up to 160 one-piece cardboard packaging units per minute
With compact machine dimensions of approximately 3 x 3 metres, the SOMIC ReadyPack features the full functionality and reliable control system which all SOMIC machines provide. The format range for carton lengths is from 150 to 450 millimetres and for width, from 100 to 300 millimetres and up to 160 cardboard packaging units per minute can be processed. If the customer opts for a tray packer initially, a conversion to the wraparound packer is possible later. "With the SOMIC ReadyPack, we are striking a balance between high tech and a high ROI", says Sales Director, Stefan Julinek, highlighting one of the various benefits of this new machine type.