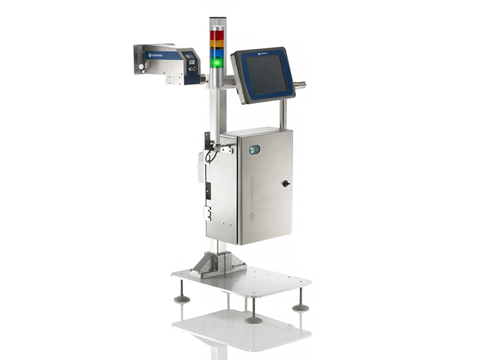 Domino Printing has announced the launch of the Cx350i – a new state-of-the-art piezo inkjet (PIJ).
The company describes its new product as a direct-to-box printing solution that is reliable, low-maintenance, and optimised for low-cost printing of high-quality, GS1-compliant machine-readable codes onto cases, trays, and other secondary packaging types.
"Code quality, especially with regards to barcodes, is a top priority when printing on secondary packaging," says David Edwards, product manager for PIF at Domino. "A poor-quality barcode may fail to scan, which can lead to rejection by retailers, costing manufacturers huge amounts in rework and wasted stock. GS1 estimates the cost of poor barcode quality in the UK to be somewhere between £500 million and £1 billion per year."
According to Domino, inkjet solutions for printing directly on secondary packaging have traditionally had a poor reputation when it comes to print quality – being deemed as unreliable, messy, and requiring frequent cleaning and intervention to achieve high-quality prints.
Consequently, print and apply labelling is often used as a more reliable solution than direct printing on boxes – however, the company says that this results in higher costs and additional waste.
The Cx350i has been designed with the aim of ensuring maximum stability, clean operation, and precise code placement and consistency, even when subject to production line vibrations.
The stainless steel printhead produces finer resolution printing of GS1-compliant barcodes, batch and product information, and other variable data. Optional inline barcode validation reportedly further reduces the risk of printing errors and incorrect codes.
The Cx350i is equipped with Domino's QuickStep user interface, a touchscreen control that allows operators to quickly adjust settings and select, edit, or create print designs with ease. The user interface is common across the Domino range, reducing the need for additional operator training.
For manufacturers looking for connectivity and smart factory solutions, the Cx350i is compatible with Domino's coding automation solutions, which provide options for integration into factory ERP and MES systems. Manufacturers can also make use of optional Domino Cloud connectivity, for remote monitoring of production line performance.