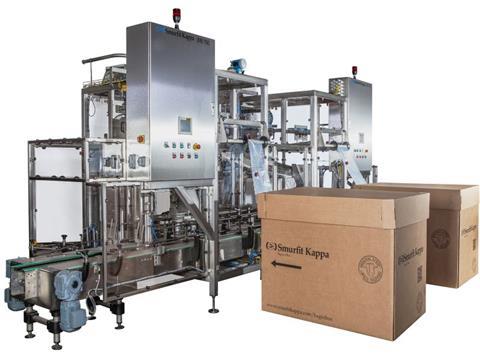 Smurfit Kappa, a world leader in complete Bag-in-Box® packaging solutions, announced delivery of its 150th automatic web filling line for the liquid and semi-liquid industry.
Used for filling Bag-in-Box® and Pouch-Up® products, the machine was produced by the BIB Equipment division of Smurfit Kappa Bag-in-Box. Smurfit Kappa's automatic web filling machines offer high productivity and efficiency thanks to a number of innovative technologies including:
-The revolutionary filling valve with separate vacuum and nitrogen circuits which decrease the oxygen pickup during filling
- The "soft drop" of the bag reducing the number of leakers
- The raised buffer tank which enables a better flow and more accurate filling The web filling machines also meet strictest standards in terms of HACCP health and safety requirements.
For over 20 years, BIB Equipment has been producing automatic web filling lines for the liquid and semi-liquid industry in Europe, Russia, Latin America, North America and Asia Pacific.
This accomplishment is the result of Smurfit Kappa's experience and expertise in the end-to-end process of packaging liquids. In close collaboration with R&D and Quality departments, the BIB Equipment department carries out a lengthy process to serve each project from the evaluation of the specific needs of each customer to the construction, testing, installation and after-sales service of the complete packaging line.
"We are proud to reach this milestone," said Florent Neveu, BIB Equipment Manager. "Following extensive research done by our in-house experts and using the experience we have built up over the years, filling is one of the most important steps of the whole Bag-in-Box process. To succeed, it is important to define the characteristics of the project from the beginning, and make sure all the steps are approved by the customer. By reaching this milestone, we once again have proven our efficiency, flexibility and responsiveness."
The automatic machines are available in different versions to suit a range of production requirements: the BIB 700 and the BIB 900 which are both available in single or multiple heads.
More info: