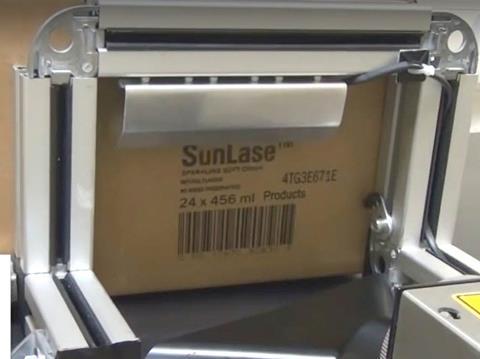 Smurfit Kappa, a leading global provider of paper-based packaging solutions, continues to deliver game-changing innovations for its customers. For its latest initiative, the company has collaborated with Sun Chemical, the leading producer of printing inks and coatings, to deliver the most robust and efficient, digital laser-based coding solution that supports customer packaging and labelling requirements.
The new coding solution for secondary cartons combines Smurfit Kappa's flexo printed corrugated boxes with Sun Chemical's SunLase activated coating system resulting in high quality, reliable, late stage coding, which allows customers to laser mark packaging at the end of manufacturing operations. With the capacity to laser mark at the typical speed of an automated packing line, it offers a replacement for direct thermal labelling.
As a result, there is less disturbance during the packaging line as there is no requirement for labelling and printing. This saves the business time and ultimately, drives operational efficiencies. The SunLase system is clean, hygienic (no inks or chemicals are used in the production) and is a much more reliable form of coding, when compared with labels and printing. SunLase is available in white and transparent laser-sensitive ink.
Extensively tested within the FMCG sector, the late stage solution is being successfully used on packaging for leading companies.
"We are delighted to collaborate with Sun Chemical, experts in their field, on this laser-based marking solution, which is further evidence of Smurfit Kappa's commitment to innovations that make a meaningful difference to the packaging needs of our customers," said Arco Berkenbosch, Vice President Innovation and Development, Smurfit Kappa.
Michel Vanhems, SunInspire, Special Effects Inks, Functional Coatings and SunLase Product Manager EMEA at Sun Chemical, comments: "As regulations for traceability continue to grow, combined with the need for delivering fast, efficient and cost effective output, our partnership with Smurfit Kappa has enabled us to combine our expertise to deliver a digital laser-based solution that meets all the demands of industrial applications. Having undertaken thorough testing of our application, and to already have it adopted by a world-leading organisation is testament to the benefits that it can bring in terms of versatile, high speed, late state identification for a wide range of secondary applications."
For more information, visit www.sunchemical.com