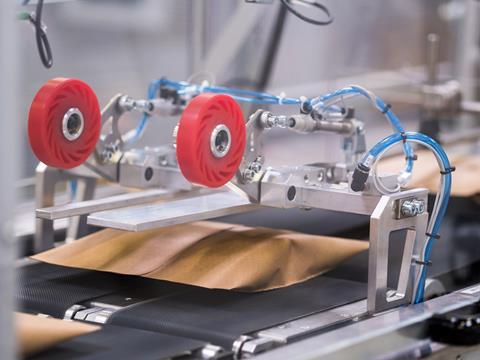 Sitma has introduced a new end-of-line solution, Fast Pack, which has been designed to help e-commerce businesses package a wide range of goods: from industries like cosmetics and personal care to clothing, electronics, books, music, and media.
A modular system, Fast Pack can consecutively prepare packages of various shapes and sizes while working at different speeds, reaching up to 3,500 packages per hour.
Fast Pack can produce tailor-made packs of varying shapes and sizes, measuring the product beforehand to create customized packaging, while also being able to run paper (from 60 gsm to 150 gsm), as well as different types of biofilm.
With Fast Pack, customers also have the option to include a family of accessory units for managing complex data. These integrate and expand the possibilities offered by consolidated technology such as in-line printers and labelers. Sitma has implemented a hardware and software system that allows information tracking when managing e-commerce orders throughout the entire distribution chain.
In the preliminary phases, product data is collected and then analyzed, linked and further enhanced. Each product, which includes the package and its content, is assigned a distinct ID number, which is then tracked and traced throughout the whole process. The technology Sitma uses is engineered to be integrated with the client's WCS and databases.
In a press release, the company said: "This offer perfectly satisfies the needs of Industry 4.0, which doesn't stop at the packaging phase. The end-of-line proposal is also highly flexible and automated. It can include integration with weighing and labeling systems, or installation of digital in-line printers for printing transportation information or other details directly on the package."