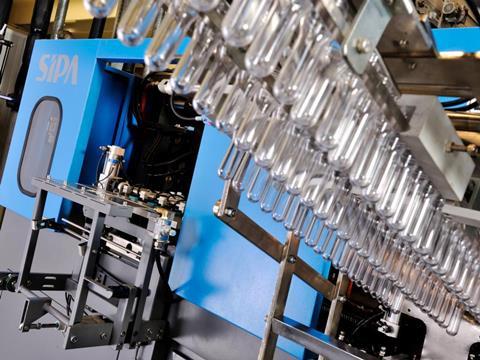 Equipment and process technology specialist SIPA will point the spotlight at its expertise in specialty PET containers at interpack (May 4-10, Düsseldorf, Germany).
For the first time, as a world preview, SIPA will present a new model of its best in class linear blowmolding systems, the SFL 6/8 EVO on stand B73 in Hall 13.
The SFL 6/8 EVO will carry all the technological advantages of the successful system, plus it will be even more performing: the output is increased by 10%, it will reach now the 2000 b/h/c while we have further reduced consumption on both preform heating and bottle blowing.
Another innovative feature is the new clamp opening and closing system: directly driven by brushless motor reducer, the clamp can adjust the width of the opening accordingly with the container to be blown in order to expand production flexibility.
In addition to its capability in two-stage systems (SIPA also makes several sizes of XFORM preform injection molding units), SIPA will highlight its ECS range of single-stage ISBM equipment at the show. This range was extended several months ago with the addition of two smaller models when SIPA acquired Automa's ISBM business. These ECS 'SP' units, which were recently upgraded, have enabled SIPA to improve its ability to provide a full service to companies producing specialty containers in all shapes and sizes, whatever the output requirement.
ECS SP machines are ideal for production of containers as small as 20 mL in small to medium-sized lots, for such markets as detergents, pharmaceuticals, personal care, cosmetics and beauty care, and also foods. They can also make the miniature drinks bottles used by airlines for their light weight and break resistance.
SIPA's product design and development expertise will also be showcases at Interpack. "We have now notched up 30 years of packaging development expertise," says Packaging R&D Director, Laurent Sigler. "In that time, we have created some 25,000 bottle designs and 30,000 preform designs, we have carried out 15,000 prototyping projects, and we have registered over 100 patents."
With new technology developments launched every year, SIPA stays in tune with market needs. It is one of the few in the market to provide flexible bottling lines suited to match with the current trends of the beverage market, with its demands for lighter bottles, increased product differentiation, and multiple product formats, including large sizes containers. SIPA bottling lines allows bottlers to fill multiple products on the same line like water, CSD and hot filled juices enhancing the value of the investment.