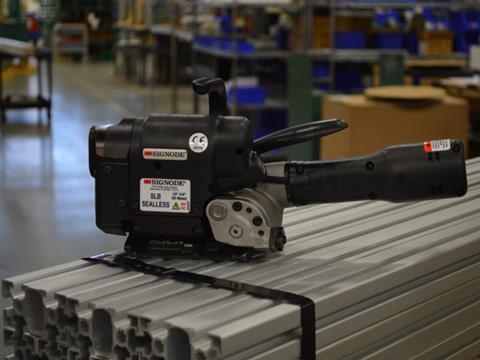 Signode Industrial Group is a major global player in industrial packaging, with brands that are trusted worldwide. The Multi-Billion company has 88 manufacturing facilities spread across six continents and its products are sold in both the mature global markets as well as in the fast growing emerging markets.
The company's products include, steel and plastic strapping, strapping and equipment and tools, stretch film as well as stretch wrap and stretch hooding equipment, and complementary protective packaging products.. These products help customers increase confidence and lower the cost of moving their products safely to market by containing, unitising, protecting and securing goods during warehousing, handling and shipment.
Signode Industrial Group provides an umbrella organization, bringing together a wide range of industry leading products and services and helping ensure the customer has access to the best solutions for their applications. Our customers will enjoy personal service and support from capable and knowledgeable local partners and have access to the best technology available from our global innovation and solution program. Based on this commitment, Signode Industrial Group is introducing a new tagline at interpack2017: LOCAL PARTNERS | GLOBAL SOLUTIONS.
At interpack Signode Industrial Group showing a large variety of the latest equipment and tools from pallet stretch hooding and stretch wrapping machinery in combination with strapping and stapling toolsto banderoling and box and tray packaging. Brands represented at the booth are Signode, Orgapack, Strapex, Haloila, Böhl, Mezger, Kihlberg, Mima Films, and Lachenmeier.
There will be live demos of equipment and tools during the course of interpack, so visitors can get an impression of some of the high value solutions possible with Signode Industrial Group's line of equipment and tools, and to show Signode Industrial Group as "THE" single source for industrial packaging needs.
Strapping News
Innovative, Intuitive, Intelligent – these words sum up the latest technological leap by Orgapack handsets in the area of flexible, manual strapping.
Orgapack Packaging Technology is presenting a completely new generation of battery-operated manual strapping tools at the Interpack Fair. The concept of the new OR-T tool fulfils the five most important customer needs and impresses with its simplicity and transparency: • Extreme robustness – the new OR-T tool withstands the harshest usage and environmental conditions • Ergonomics – ergonomic design and perfectly balanced for easy handling• Reliability – digital process monitoring for the highest locking quality• User friendly – intuitive, easy-to-understand operating concept• Easy to maintain – fast and easy cleaning and replacement of wear parts
Thanks to these new features, operation becomes even easier and faster, operating errors are eliminated and the locking quality perfected. The new 3-colour touch display is intuitive to use and shows the operating mode, welding times, strap tension and the real-time tension. This new display increases the safety of the process significantly and thus guarantees perfect locking quality. The favourites function allows for a quick change of use for different packaged goods. The inching mode of the tension button is also new, which means the tension process can be started slowly and perfectly controlled. An optical display warns of bands that have not been inserted correctly. A colour display and an acoustic signal inform whether the welding has been successfully completed or if there is an operating error.
Another innovation in strapping will be the patented GripPack battery powered tool for steel strapping. The GripPack provides the low weight and portability that operators need but can't get with pneumatic tools. Weighing less than eight poundsit provides the same reliable performance as pneumatic tensioners and sealers without air generation costs and air flow inconsistencies.
Stretch Hood News
Lachenmeier will show their latest wrapping solutions in stretch hooding for logistic pallets, one layer pallets as well as pallets being wrapped with thin film for improved cost savings. Furthermore, being ready for industry 4.0, they are launching an innovative HMI touch panel with the new Lachenmeier SaveX system, providing video functionality, QR code assistance, easy fault diagnosing, OEE overview, a web access as well as a corresponding APP.
Stretch Wrap and Strapping News
Haloila, Signode and Strapex will show innovative packaging solutions consisting of the well-known Octopus stretch wrapper - now with the new Easy Load Top Sheet device for dust/waterproof wrapping and with Automatic Reel Change System, in combination with different strapping equipment, which will highlight the new, innovative and unique high speed solutions VSM/TSM range with new strapping heads. A packaging solution running with stretch film from MIMA FILMS.
More info: