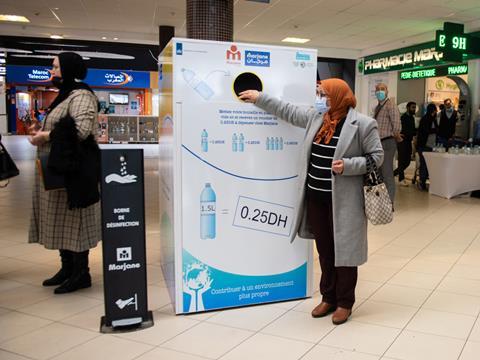 Searious Business is working with Marjane and Carrefour supermarkets to implement solutions that address the issue of plastic pollution in Morocco.
As of 20th March, supermarket customers can earn loyalty-card rewards by opting for reusable packaging and returning their plastic bottles to be recycled.
Two strategies are being trialled. The first pilot is introducing a bottle-to-bottle recycling scheme where supermarket customers are invited to return PET plastic bottles to a dedicated collection point in participating stores. For each bottle returned, the customer will receive a voucher or loyalty card points to spend in-store.
The bottles are then recycled into food-grade plastic for use in new bottles. According to Searious Business, over 26 million bottles could be collected every year in the city of Rabat alone. This reportedly equates to savings of 790 tonnes of CO2 and 530 tonnes of plastic waste avoided.
The second pilot targets the reduction of single-use plastic food containers by replacing them with a reusable alternative. Deli-counter customers are encouraged to opt for a reusable container that creates zero waste. They pay a small deposit for the container which will be returned when they bring the container back to the store.
The reusable containers are washed and reused. If widely implemented, Searious Business says that the city of Rabat alone could avoid a huge 5000 tonnes of plastic waste and save 14,000 tonnes of CO2 per year.
The MOSSUP project (Moroccan Supermarkets tackling Single Use Plastic) is run by Searious Business and funded by The Netherlands Ministry of Foreign Affairs programme for Small Business Innovation Research.
The Searious Business team has also partnered with Association Marocaine pour la Protection de l'Environment et du Climat (ASMAPEC) who provide on-the-ground knowledge and assistance in Morocco. Meanwhile, the Moroccan Ministry of Industry, Trade and Investment is also supporting the bid to find solutions for waste from single-use plastic.
"Searious Business is committed to preventing plastic pollution at the source. Through the MOSSUP project, we are implementing two circular solutions which will keep plastic in the economy and out of our ocean," said Willemijn Peeters, CEO of Searious Business.
Mr Chakour from the Moroccan Ministry of Industry, Trade and Investment, adds: "As a supporter of this project from the start, we are looking forward to seeing the pilots in place and are excited about the potential benefits for the circular economy".
A key success factor for the MOSSUP project depends on Moroccan consumers and their readiness to embrace change. The retail partners involved in the project recognise that they must continue to engage their customers in the benefits of reducing plastic waste, and it's hoped that legislation will soon be in place which will add further support to the plastic bottle deposit return scheme.