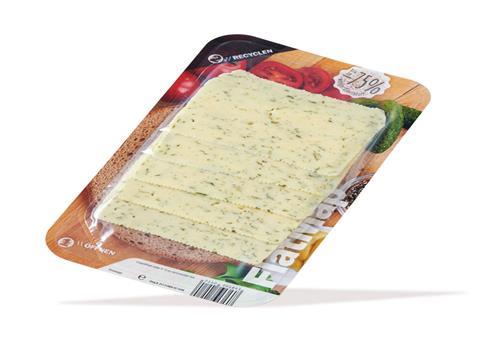 Tray-sealing and thermoforming technology specialist SEALPAC has released its new FlatMap packaging system, which it says offers a sustainable solution for sliced products under a modified atmosphere.
According to SEALPAC, its new FlatMap packaging system places sliced meat, dairy and seafood products on a flat cardboard carrier made from bleached or unbleached fibre. The carrier is then coated with a thin protective later, which reportedly provides stability, as well as a barrier against fat, moisture and oxygen.
The company says that the products are then securely sealed under a modified atmosphere by a thin lidding film, which it claims prolongs shelf life. It adds that the lidding film and protective layer are both polyolefin-based, apparently making the packaging fully recyclable.
SEALPAC claims that up to 75% of the plastic from its FlatMap range can be saved, compared to common modified atmosphere packaging.
The lidding film and protective layer can be easily removed via a peel tab, the company says, allowing for simultaneous disposal as plastic waste. It adds that the cardboard carrier can be thrown away separately as paper waste.
In addition, SEALPAC says that opening the pack is made consumer-friendly by its peel tab. The flat design of the pack, it adds, means that the product can be resealed and stored in the consumer's refrigerator without the need for re-packing.
The cardboard carrier can also be printed in high quality on both sides, according to the company. This offers space for product explanations, brand image, and consumer communication.
The company says the "striking and innovative look" of the FlatMap range will appeal to customers whether it is presented horizontally or vertically on shelves. It adds that the design offers further convenience to customers as it will apparently appear ready to serve from its packaging on the table.
SEALPAC worked on the FlatMap system in collaboration with Van Genechten Packaging, who helped to develop the cardboard carrier, and Buergofol, layer and lidding film suppliers.
Previous food service innovations by SEALPAC include the all-in-one SEALPAC A7 traysealer, which combines an output of up to 100 packs per minute with flexibility across product ranges. In addition, SEALPAC's TraySkin system provides a highly transparent barrier skin film that moulds to a range of fresh and frozen food items.
The FlatMap system will be available on SEALPAC A-series traysealers with servo drive and FlatMap preparation.