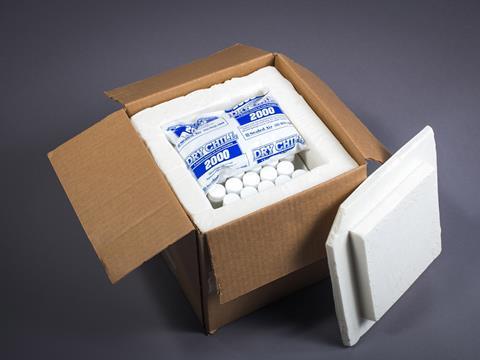 Sealed Air Corporation is continuing to play a role in providing the essential packaging solutions needed to help customers in the fight against COVID-19.
Sealed Air is providing customers with packaging solutions, including custom-fabricated shipping boxes and automated packaging and bagging systems that enable the distribution of medical equipment, face coverings, and test kits.
The company is also supporting vaccine distribution and administration by offering a complete range of temperature assurance materials that can be used in packaging vials that require a cold supply chain, including during the critical last mile of delivery.
Meanwhile, Sealed Air is also introducing a new innovation called SEALED AIR brand TemPreserve KF, which it hopes will reduce the total cost of ownership and bring additional sustainability benefits. TemPreserve KF is a customizable thermal polyurethane packaging that, along with a coolant, reportedly helps maintain required temperatures (ultra-cold, cold, or hot) for the specific length of time needed during transit.
"We are proud to offer customers a full suite of packaging solutions as they prioritize getting the right equipment, test kits, and vaccines to the world's population as quickly and safely as possible," said Sergio Pupkin, Sealed Air's chief growth and strategy officer.
Sealed Air has produced packaging solutions for the health care industry for more than 30 years and says that it is well equipped to support health care packaging solutions throughout the entire cold chain and logistics cycle, including the last mile of delivery.
The company operates two temperature assurance labs that focus on the design and testing of products that protect temperature-sensitive and perishable items for the life sciences and food industries. The labs are located in Singapore and at Sealed Air's global corporate headquarters in Charlotte, North Carolina.
Across the company's global footprint are more than a dozen labs and thermal transport laboratories certified by ISTA, as well as 42 testing locations worldwide that design, test, and certify packaging.