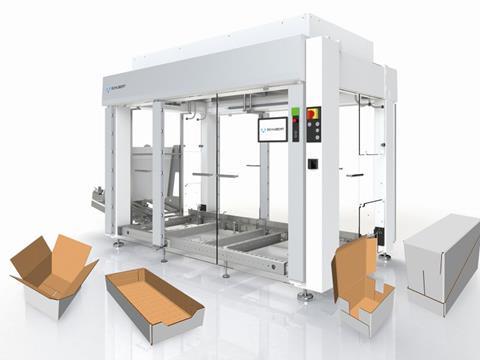 For the first time at the FachPack trade fair in Nuremberg, Schubert will be presenting its new Cartonpacker – a machine from Schubert's new lightline range.
The Cartonpacker consists of a single module and handles carton packaging in the smallest of spaces – with all the expected high quality and efficiency of a TLM system. The company now provides solution with a fast delivery time for packaging tasks that require less flexibility, i.e. that consist of only a few product and format variants. Schubert's new lightline machine range includes packaging machines for standard packaging tasks with preconfigured system components. Along with the "lightline Cartonpacker", these also address pick-and-place applications with the "lightline Pickerline" and packaging in flow-wrap bags with the "lightline Flowmodul".
Schubert is offering its new, preconfigured, very compact case packer in four variants for different types of cartons – boxes, boxes with lids, wrap-around boxes or RSC cartons. Depending on the type of carton, the machine is equipped with a suitable closing tool and laid out for one product at a time, i.e. for bags, boxes, bottles or cans. The lightline Cartonpacker offers flexibility in terms of format variants for every type of carton and product. The machine design distinguishes itself by reduction down to essential functions only, which results in lower energy consumption and therefore reduced costs.
Customers in all sectors benefit from very short delivery times and fast commissioning with the lightline Cartonpacker. Since the machine is delivered as a unit, installation is streamlined. Assembly and commissioning can be implemented within a week. This enables customers to respond quickly to market demands.
With the Schubert lightline range, the company is targeting customers with packaging tasks that require less flexibility but who also attach great importance to high-quality machine engineering. Proven functional principles and intelligent machine control ensure reliable operation with high system availability over the machine's entire service life.
All functions in a single module
The case packer presented at the fair will package marzipan chocolate boxes into RSC folding boxes. With a throughput of 125 boxes of chocolates per minute, the machine can process up to six different product formats. In a single machine frame (3,500 x 2,500 mm), RSC boxes are erected, filled with chocolate boxes and closed. At the heart of the machine are three F2 robots from Schubert.