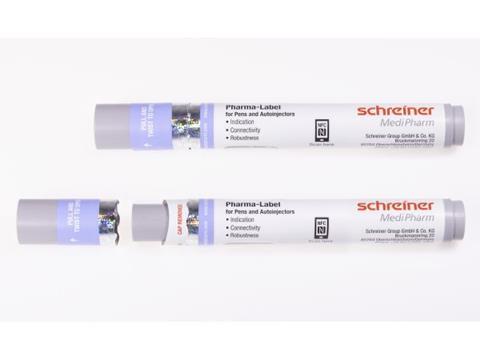 The market for injection devices – autoinjectors and pens – is rapidly growing. Factors such as the trend toward self-medication, the increasing incidence of chronic diseases and a growing biotech sector all play a part and require innovative solutions.
Therefore, Schreiner MediPharm developed new features for Autoinjector-Labels: an irreversible first-opening indicator with an anti-recapping functionality and integrated dust protection for challenging applications.
Injection aids for the treatment of diabetes, rheumatoid arthritis, anaphylactic shock or multiple sclerosis need to be easy and safe to use, particularly for disabled and motor-impaired patients. Functional labels provide valuable assistance.
Schreiner MediPharm developed a new label concept that features a unique functionality combining first-opening protection with an anti-recapping function and dust protection. The label wraps around the autoinjector including the cap, thus providing effective dust and dirt protection before the device is opened for the first time. The integrated perforation clearly indicates that the label has been opened. The label is positioned in a way that prevents undetected recapping of the autoinjector for illegal reuse. In addition, it includes the following features: a hologram for counterfeiting protection, inspection windows with an anti-UV varnish coating to protect light-sensitive active drugs, a room temperature indicator as well as an anti-slip varnish for enhanced grip and safe handling. A label-integrated NFC chip enables diverse interactive applications to optimally assist the patient. Via a smartphone, additional product information, demo videos or special apps can be read, or mobile product authentication performed.
At the PDA conference "Pre-filled Syringes and Injection Devices" held in Vienna on November 7–8, Schreiner MediPharm presented the novel label concept for the first time. Product manager Florian Moik summarizes the business unit's commitment: "We continuously pursue the further development of our portfolio of possible label functionalities for injection devices. Our aim is to offer our customers and partners innovative and application-specific solutions which are optimally tailored to their needs, using the latest technologies to enhance product and patient safety. At the same time, we ensure that our sophisticated and functional label designs can be easily integrated into the pharmaceutical manufacturer's production processes."
More info: