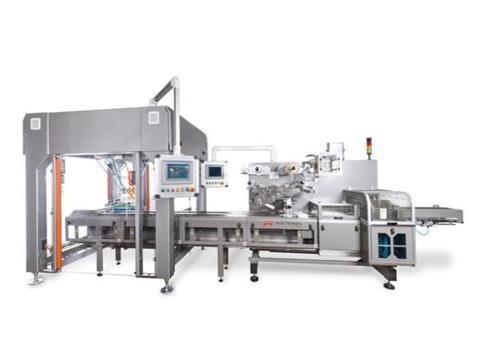 When it comes to finding solutions for the candy, nut, bakery, snack food, frozen food, fresh produce and cheese industries, Hayssen Flexible Systems has it in the bag.
And at interpack 2017 – held May 4 – 10 in Dusseldorf, Germany – many of those solutions will be on display.Hayssen Flexible Systems is one of a number of Barry-Wehmiller businesses represented in BW Packaging Solutions, located in Hall 6 Booth D62 at the show. Through their diverse capabilities, these companies can collectively provide everything from a single piece of equipment to fully integrated, tailor-made packaging line solutions for a wide range of packaging industries.
A highlight of Hayssen's presence at interpak is a live demonstration. As part of a long-standing relationship, Schib Packaging — part of Hayssen Flexible Systems, and a dominant player in the candy, bakery and snack food industries — will partner with Abrigo to display an integrated robotic solution for secondary packaging in Abrigo's booth E37 in Hall 3.
The robotic solution features a servo driven Schib CO 90 flow wrapper fed by a robotic cell with multiple picking tool. The Abrigo robot will be loading collations of five pre-wrapped snack bars directly into the in-feed chain of a Schib HFFS over wrapper. The packaging machine will be running 50 five-packs per minute. Automatic film splicing and Allen-Bradley controls are included in the machine setup."This specific partnership is a testament to our dedication in providing turnkey packaging solutions to our customers," stated Michael Dann, Vice President of Hayssen Europe.
Hayssen technology on display in the BW Packaging Solutions booth include the Logic VFFS – with Doy, Quad and Zip capabilities – efficiently producing the most popular bag formats throughout the various major industry segments. The operational efficiency is enhanced by easy changeovers. Bag format change overs are a matter of minutes between simple format size changes, to a more complicated bag format such as Doy bag with zipper or Quad seal stand up bag with zipper.
The Merlin Blu flow wrapper will also be on display. Its hygienic design is suitable for a wide range of industries, with tool-less removal of guarding, the Merlin offers easy access for cleaning and its sloped tops and rounded legs minimize debris buildup. Plus, it's "no product, no bag" feature minimizes film waste in the event a product is not in place to be wrapped. "The Merlin Blu flow wrapper, with its straightforward setup features, provides fast, repeatable changeovers for customers," said Dan Minor, Hayssen's Vice President of Sales and Marketing. "In addition, we are proud to introduce an all new VFFS bagger that essentially produces every type of bag style with or without zip reclose in a single machine; it's one of the most versatile, efficient machines on the market."
More info: