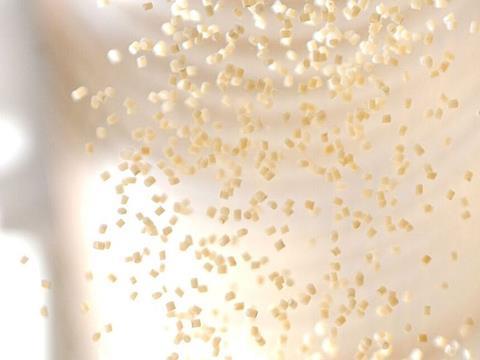 Biome Technologies, the parent company of Biome Bioplastics, has received further government funding as part of its £6 million programme to use industrial biotechnology techniques to produce a new range of highly sustainable polymers.
These polymers will tackle the plastic waste challenge, while delivering functionality that competes with traditional oil-based plastics.
The two-year, £0.8 million project, in collaboration with the University of Nottingham, will use organisms to produce bioplastic 'building blocks' (specifically PDCA or 2,5-pyridinedicarboxylic acid) at pilot scale. These bio-based building blocks, or monomers, will be used in the production of compostable and recyclable polymers suitable for flexible packaging applications such as pouches, that are not currently recyclable. The resulting products will then be tested by a leading UK brand.
Over the last five years, Biome has led a £6 million development programme aimed at bringing new bio-based and biodegradable polymers to market using industrial biotechnology techniques. This programme currently involves seven universities and approximately 25 scientists, engineers and other industrial partners. Several technical breakthroughs have already been achieved and the partners are focused on scaling these processes towards commercial levels.
Paul Mines, Biome Technologies CEO, commented:
"The UK government has set a target of eliminating all avoidable plastic waste by 2042. Bioplastics will play a crucial role in achieving this target by reducing waste. However, current bioplastic technology is limited by price and performance in some applications. Our development programme is intended to change that position by preparing a new generation of polymers with improved functionality"
Industrial biotechnology involves creating materials, chemicals and energy using biological processes. It is recognised by UK government as a promising means of developing low carbon products and processes. The technology that Biome Bioplastics is developing has the potential to unlock a practical biorefinery approach to transforming abundant natural feedstocks into sustainable, high-value chemicals and polymers.
Professor Alex Conradie, University of Nottingham's Chair in Sustainable Chemical Processing, said:
"Commercialising sustainable processes requires the creative blending of multidisciplinary expertise. This exciting industrial biotechnology project, focused on PDCA for bioplastics, blends the University's skills in metabolic engineering, led by Dr. Samantha Bryan, with process development capability from the Department of Chemical Engineering. The work will benefit from the University's investment in sustainable processes and we are delighted to be supporting Biome's drive to shorten its development cycle towards rapid commercialisation"
The funding, provided by UK Research and Innovation and delivered by Innovate UK, was awarded as part of a £20 million open competition to deliver game changing or disruptive innovations with significant potential for impact on the UK economy. A recent report by bioeconomy consultants NNFCC found that plastics made from plants instead of oil, many of which are biodegradable, could create 34,000 jobs and contribute £1.92 billion to the UK economy in the next decade.