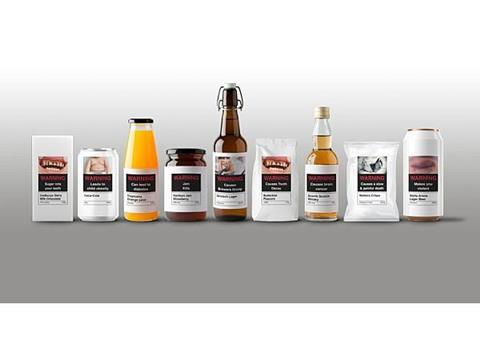 Global designers unite to draw attention to, and create debate around, the issues of health warnings and marketing restrictions on packaging, and whether there are more effective solutions to change consumer behaviour.
The first in a series of global Endangered Species hackathons will be launched at Makerversity, Somerset House in London on 3rd October with a live event, and will run for a month online.
The challenge is spearheaded by Endangered Species, a membership organisation supporting brands that are looking to find more effective ways to promote responsible consumption of products including fizzy drinks, fast food, alcohol and sugar through packaging design.
Brands face unprecedented challenges around the world as legislators, government bodies and single interest lobby groups press for graphic warnings and censorship to be used on many food and beverage products.
"While minimalism can work well in some packaging design, plain packaging makes it harder to distinguish between brands and also to recognise counterfeit goods. A branded pack guarantees the content, while plain packaging doesn't. From a packaging manufacturing perspective, a lot of the quality of a product has to do with how it is packaged. With plain packaging you lose all of that. The impact of plain packaging could be destructive to an industry that is a huge employer of people who create beautiful objects. Packaging plays a vital role in our enjoyment and pleasure in objects all around us," Endangered Species Founder Ron Cregan tells Packaging Europe.
Leading names across design, marketing and branding have come together to demonstrate their support for the Design Hackathon and call for companies and individuals to take part. The hackathon will involve agencies including JKR Global and Sedley Place, collaborating on design solutions to raise awareness of responsible consumption whilst enabling brands to keep their creative integrity.
"Trust in brands indicates trust in a relationship. Once people have bought products from a particular brand and enjoyed them, they are likely to look out for it more next time. This also valid for supermarket own brands. People trust supermarkets like Waitrose to have good quality standards. Brands help speed up decision making, offer quality and reassurance and offer character, richness and colour to the visual environment. Creating positive and educational messages that will help change consumer behaviour and avoid misunderstanding is well within the design community's capabilities and we have launched the Design Hackathon as a platform to facilitate this," Ron Cregan adds.
The ideas and designs from around the world will be collated, edited and presented to global media and brand owners via an interactive website. Ultimately Endangered Species wants brand owners to put these ideas into practice, helping consumers understand how to lead healthy, responsible and positive lives whilst enjoying their products.
Ron Cregan concludes: "There is absolutely a sensible health debate to be had around responsible consumption, but draconian legislation cannot be the solution. Brand identity is a fundamental right for brand owners and proposed government measures will have a devastating impact on global brands including much loved favourites which are part of our cultural heritage as well as artisan producers who will be denied the right to express their identity. Designers are good at conveying information. I don't think that big hazard warnings are an effective way to deal with the problem. Encouraging a long term behaviour change and brands to getting involved with initiatives that boost positive action makes a lot more sense."