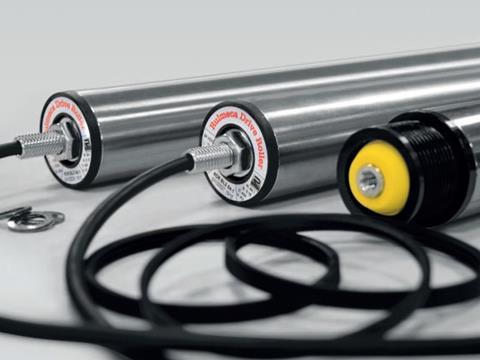 RULMECA UK will present innovative drive solutions from a comprehensive product range including hygienic drum motors, energy efficient 24VDC RollerDrives, conveyor rollers and conveying elements at the PPMA Shon 2017, 26th – 28th September, NEC – Birmingham.
RULMECA has many years' experience in the development of Unit Handling drum motors and offers a generation of the most versatile, powerful and highly efficient drives for belt conveyors - with diameters ranging from 81.5mm to 1000mm and power from 0.02kW to 250kW. As a totally enclosed sealed unit, free of external parts and with fixed external shafts, the Rulmeca drum motor is very compact and requires less space when compared to traditional multiple component motor transmission systems. It is ideal for general conveying applications and environments involving frequent wash-downs (with IP66/69 rating).
Rulmeca's drum motors provide the perfect drive solution for numerous industrial applications in food processing, packaging, dynamic weighing and in logistics.Rulmeca will also feature RDR 24VDC Drive Roller (PICTURE ATTACHED), which is considered to play a key role in progressive manufacturing and distribution environments. Today's conveyor handling systems require higher throughputs, greater flexibility, accuracy, traceability and reliability. The Drive Roller consists of a brushless motor cartridge, which includes the electric motor (24V dc low voltage) and the relative reduction gear housed in a 50 mm diameter tube, configured to suit each application.
The variable speed motor with integral drive control is coupled to a planetary gear box with steel gears, available in 5 different ratios.The cable facility together with the possibility of simple command or of direct interface with electronic systems (PLS, BUS) make the RDR BL-2 DriveRoller the ideal solution to build compact systems and conveyors with a leading design.
Thanks to the performance and the configuration flexibility, the DriveRoller BL-2 can be easily applied to a wide variety of tasks, such as those defined with: frequent start/stop operations, constant speed variable load and accurate product placement.
Further Rulmeca components to be exhibited include a series of high quality conveyor rollers and driven rollers fitted with sprockets or Poly-V/ round belt heads. These rollers are ideally applied for the unit handling of light, medium and heavy loads in the fields of packaging, food and automation in general.
For further details visit Rulmeca at PPMA on stand G26 or visit www.rulmeca.com