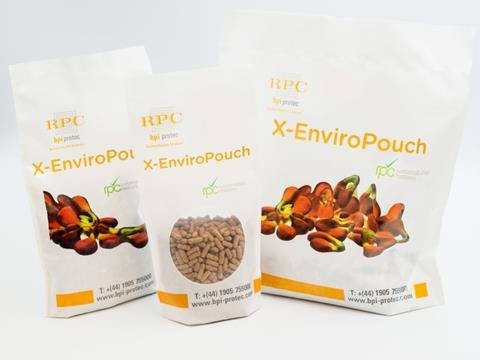 On stand C80 at this year's PPMA Show, RPC bpi protec will showcase some of the latest flexible packaging films, underlining the company's versatility in offering packaging solutions tailored to run across a wide variety of packaging machinery and formats for different market applications.
Linking with the demand for sustainable packaging solutions, the bpi protec stand will also have samples of the latest innovative non-laminate products. Made from PE, X-EnviroFilm and X-EnviroPouch are fully recyclable and cost-effective environmentally sustainable alternatives to laminate products and the traditional Doy-sealed pouch.
The X-EnviroFilm and X-EnviroPouch are part of bpi protec's X-Range, which will also be on display. The range provides a variety of flexible packaging products that offer added value to food manufacturers and retailers, such as increased line speed operation, portion control management, fully recyclable alternatives to traditional non-recyclable methods, and reclosable films. A number of bpi protec's films will also be seen running on machinery at the show, demonstrating their ability to operate across different packaging lines.
"Our new X-EnviroFilm and X-EnviroPouch are exciting developments and an integral part of our commitment to create film products that help to protect the environment by supporting the requirements of the circular economy," comments Sue Mohan, RPC bpi protec's Sales Director. "Suitable for a wide variety of applications and packaging lines, we welcome manufacturers and brand owners to come to our stand to find out more about them and our other innovative flexible film solutions."
Panel Discussion As a part of the PPMA Enterprise Zone programme, Mike Baxter, External Affairs Director at RPC bpi will be facilitating the Q&A panel discussion on Tuesday 25th September. Titled 'How will the Proposed New Regulations coming from both DEFRA & Brussels Impact on the FMCG Market's use of Plastics' leading panellists will provide their view on the issues involved and the challenges for manufacturers and brand owners.