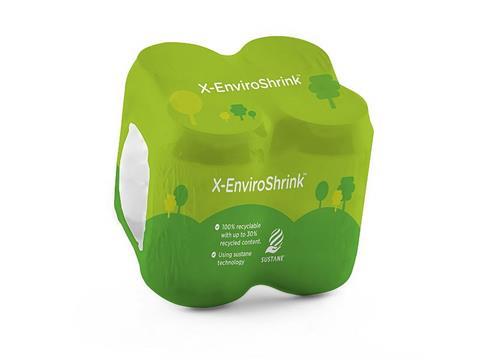 Governments and consumers are now demanding packaging that minimises its impact on the environment by ensuring the use of recycled content and delivering full recyclability.
Manufacturers are therefore looking to maximise the sustainability of their chosen packaging solutions, whilst still providing effective protection and brand enhancement to their goods.
RPC bpi protec's new X-EnviroShrink contains 30% post-consumer recyclate (PCR) as well as being 100% recyclable itself, making it fully in line with the latest government proposals for plastic packaging and one of the most sustainable solutions for the collation and multi-packing of goods.
Using the Sustane recycled polymer from RPC bpi recycled products, its ultra-low carbon footprint enables X-EnviroShrink to set a new standard in shrink film technology, combining recycled content with the full recyclability. RPC bpi protec's recent research highlighted, through a survey of 1,000 British consumers, that 83% were more likely to choose products with either less packaging or recyclable packaging, and 82% to use the services of a company that makes an effort to recycle and cut down waste. This demonstrates how sustainability is an increasingly important factor for many consumers in their purchase decisions.
Available in both plain and printed versions X-EnviroShrink is the ideal collation shrink for a wide variety of products and markets, from beverage cans and bottles to canned food and cartons. Enabling high-speed packing methods to be utilised as a single or twin lane, it helps manufacturers maximise cost-effectiveness and speed-to-market as goods are shipped to supermarket shelves.
"The sustainability of all packaging is a paramount requirement for brands and consumers," comments David Lumley, Managing Director of RPC bpi protec. "X-EnviroShrink ideally meets this need by both reusing plastic and delivering the protection, functionality and cost-effectiveness that are equally essential – and all within a fully recyclable film."