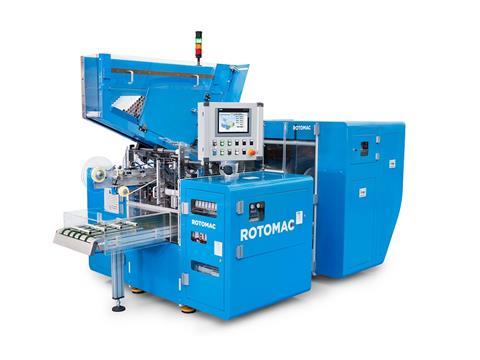 Producers and converters of aluminum foil, plastic film and baking paper need to answer the demand for direct availability of their products while ensuring best quality.
Therefore, they need machines that operate with the highest efficiency possible and maximum productivity at the same time. ROTOMAC offers an extensive portfolio of rewinding, cartoning, shrink wrapping, packaging and accessory machines as well as complete production plants to fulfill these requirements, and will be showcasing its solutions at this year's IPACK-IMA in Milan, Italy.
All ROTOMAC machines feature state-of-the-art technology and an innovative design that allows to customize machines and complete turn-key plants according to customer's needs. At the upcoming IPACK-IMA 2018 in hall 7, booth C22, the Italian manufacturer presents one example of its cutting-edge, customizable machines for the food and packaging industry: The improved model 145. The automatic rewinding machine converts aluminum foil, plastic film and baking paper rolls for household or catering use. The exhibited machine is equipped with a lifting system for aluminum foil mother rolls which simplifies the loading into the unwinding unit. In addition, the 145 embosses foil (steel – rubber rolls) with special patterns within the converting process. Thanks to further developments, the 145 offers an even more efficient and smooth rewinding with a speed of up to 700 m/min and up to 42 cycles per minute. The standard machine converts aluminum or paper mother rolls with an outer diameter of max. 1,000 mm and an inner diameter of 150 mm. It processes material widths from 280 mm to 460 mm into finished rolls with a length from 3 m to 300 m. Upon customer request, the inner roll diameter as well as the material width is adjustable to ensure a perfect fit into the production line.
The seamless converting process with ROTOMAC machines, especially the model 145, will be showcased at this year's IPACK-IMA from May 29th to June 1st in hall 7, booth C22. This is the next occasion for you to learn how ROTOMAC can help your business with its innovative machine designs that provides high performance, consistent reliability and ease of use.
More info: