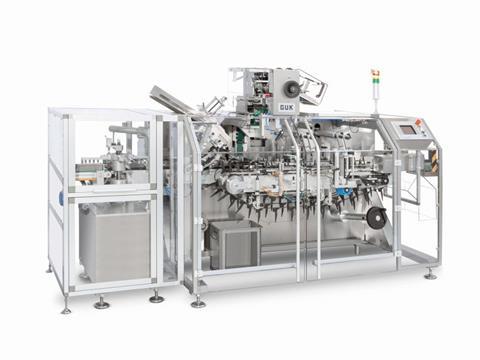 The Romaco Group will demonstrate its extensive know-how regarding pharmaceutical applications with selected technologies for tableting and secondary packaging.
The KTP 590X single-sided rotary press, the newest model in Romaco Kilian's established KTP series, will be the main highlight at the exhibition stand.
Romaco Kilian KTP 590X single-sided rotary pressThe KTP 590X is an extremely versatile single-sided rotary press from Romaco Kilian which can be used to manufacture both mono-layer and bi-layer tablet formats. It can be switched between mono-layer and bi-layer mode without any modifications to the compression units. Bi-layer tablets can be compressed at any time on the version with three compression rollers. The tablet press is equipped for this purpose with two standard fill shoe modules, which distribute the powder absolutely uniformly in the die.
Thanks to the optimised paddle design, even poorly flowing or sticky powders can be processed efficiently and compressed homogeneously. With its three separate compression stations, the Kilian KTP 590X is equally suited for manufacturing effervescent tablets. The powder is simply tamped initially to prevent air pockets and capping, then pre-compressed and finally converted into finished tablets in the main compression unit. The dwell time is significantly longer owing to the use of Kilian 28/41 tooling, meaning harder tablets can be made. All in all, the Romaco Kilian KTP 590X single-sided rotary press boasts a maximum output of up to 510,000 tablets per hour, even in bi-layer mode. Low process temperatures, efficient cleaning and retooling and a mature hygiene concept – the KTP 590X single-sided rotary press, too, conforms to the design principles of Romaco Kilian's successful KTP series: "Cool, Fast & Clean".
Romaco Kilian STYL'ONE Evolution tableting robotIn the newest generation of Romaco Kilian's STYL'ONE Evolution single-stroke press, the compression cycles have been speeded up by more than 60% and the maximum compression force increased to 50 kN. The technology is thus ideal for simulating high speed presses like the Romaco Kilian KTP 420X at up to 104 revolutions per minute. The compression force profiles of all standard rotary presses are stored in ANALIS, the intelligent PAT software, and can be accessed easily when needed. Furthermore, depending on the test set-up, the compression processes can be either based on compression force or displacement controlled. The ROCO Pack software additionally simulates the operation of granulating mills on request. This extreme versatility is a hallmark of the STYL'ONE Evolution tableting robot. The remarkable precision of the test batches means powder properties can be analysed very realistically, for instance. By the same token, scale-ups or test series to optimise existing processes or troubleshoot errors can be performed on the laboratory press. The new models also have an interchangeable process worktable, which is an advantage if the products in question are highly abrasive. The STYL'ONE Evolution is capable of compressing up to 1,750 tablets per hour in configurations for mono-layer, multilayer or core tablets.
Romaco Promatic P 91S intermittent motion cartonerIn the high-speed version, the Promatic P 91S intermittent motion cartoner achieves a maximum output of 140 cartons a minute. This compact machine has a small footprint which makes it perfect for many pharmaceutical applications and line configurations. The cartoner's cGMP compliant balcony architecture affords a better view of the process and reduces the risk of cross-contamination. All line clearance measures can be completed in a very short time. The optimal access to all components and the retractable carton magazine simplify cleaning and enable faster product and format changes. The operator simultaneously profits from the cartoner's lower noise level and ergonomic working height. The use of servo technology and Venturi vacuum systems not only reduces noise emissions; it also ensures reproducible processes and gentle handling of the products and packaging. What's more, the intuitive HMI terminal of the P 91S intermittent motion cartoner from Romaco Promatic provides maximum ease of use.
On show at P-MEC in Mumbai (India) from November 28 to 30, 2017 (Bombay Exhibition Centre, Stand D40).
More info: