Elisabeth Skoda speaks to three industry leaders to find out more about how robotics and automation help tackle today's challenges.
In the autumn of 2020, Japanese engineers presented a 18 metre-tall, 25-tonne heavy humanoid robot that could walk, wave its hand and even take the knee. This giant Gundam robot was inspired by a 1970s anime series that subsequently evolved into a multi-billion-dollar franchise.
The technical challenges that had to be overcome to achieve this kind of movement were immense, given the weight and size of the robot. On a smaller scale, robots have been a key part of the packaging industry for decades, and while advances maybe have not been as spectacular as Gundam, they are just as impressive.
Integration and flexibility
A lot has happened in robotics since Unimate, the first industrial robot, and Shakey, the first autonomous robot, appeared in the early 1960s, says Patricia Torres, Industry Marketing Manager Food and Commodities Solutions at Omron Industrial Automation Europe.
"The latest advances to fully integrate industrial robots into the automation system – enabling the capability to have a single brain to control both worlds – is proving to be crucial for the packaging industry, especially for highly automated lines. Also, over the years robotics technology has become more affordable and versatile, meaning they are increasingly being implemented in many industries beyond the traditional automotive sector. Alongside the development of AMRs (autonomous mobile robots) and cobots, this means manufacturers can improve the operations in areas like end of line packaging, co-packing, intralogistics or order fulfilment that were previously not considered as applications ready for robots."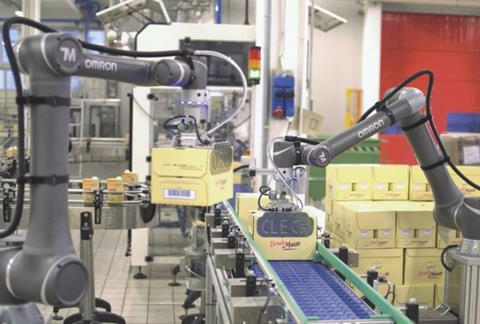 Mike Loughran, CTO for the UK and Ireland at Rockwell Automation, has also observed that robots are becoming more widely adopted across multiple industries.
"Today, we see more integration of robots of different sizes along the supply chain, being more adaptable and agile. Robots more often make up the very core of a machine."
Demand has driven the requirement of a much more flexible and agile machine, and one of the answers to that has been a great adoption of robots in all their different forms, as he points out.
"In the past, robots worked in isolation. But today, an overall control scheme and integration are key, especially in areas such as beverages and CPGs with fast moving lines. Rockwell Automation has embraced the integration of robots via its standard control system that controls everything. For example, pick and place robots can be part of an overall system, which facilitates tight integration."
In order to facilitate integration, Rockwell Automation builds virtual software libraries, which help to set up a digital twin. "This enables virtual design and prototyping, which in turn allows for testing the robot in the digital world before actually building it. It also enables connecting it to a control system earlier, to address operation or sequencing issues before going on site. It also helps with training off site and solving production challenges in the digital world. Once it is put in a real-world environment, digital twins can be used for analytics and predictive maintenance."
Robots have formed the automation backbone of the packaging sector for many years, showing themselves to be highly effective tools for mass production, says Malte Schlüter, Director Food & Beverage/CPG of Mitsubishi Electric, Factory Automation EMEA.
He argues that to remain competitive, businesses need the ability to switch quickly and easily from making one product to another without a complete re-engineering of the line.
"Most recently, enabling even higher levels of production flexibility, robot cells have further increased in importance within the packaging sector. They are designed to handle a number of different products within a single cell, greatly reducing line changeover times."
Humans and robots working together
Mr Schlüter identifies a trend towards mass customization or high-mix, low-volume (HMLV), which requires even more flexibility.
"An example is the assembly and filling of chocolate displays within supermarkets, where every display is tailor-made to the needs of the individual outlet. Here, the latest developments in collaborative robots (cobots) coupled with machine learning technologies and the goals of Industry 4.0 are opening up new opportunities for robotic automation, even down to 'batch size one'."
In this HMLV environment, line changeover times need to be kept to a minimum. Collaboratives operate alongside human workers to perform the laborious and repetitive aspects of HMLV packaging while still enabling high levels of flexibility.
"Collaborative robots are now becoming more common on production lines, and the flexibility that they enable isn't just about their ease of programming, but also their adaptability. This near-human level of flexibility is enabled by deep learning AI technologies, giving the cobots the ability to constantly learn to perform their tasks better."
Cobots still come with challenges, as Mr Loughran points out. "As cobots work in conjunction with humans, there is a perception of risk. In a typical line-up, a robot will be in its own cell and physically separate from people. Cobots work right next to somebody, and risk assessment becomes a lot more difficult. It comes down to planning: is it the right tool for the job? Does it offer benefits? It's important to zoom in on individual factors, such as peoples' heights, or whether they work sitting down or standing up. There has to be repeatability, and you have to plan safety around that. At Rockwell Automation, we offer consultancy around safety in an industrial environment, taking into account both regulatory and industrial needs."
In today's environment, a move towards greater automation is due to food production processes becoming in many ways as important as the product itself. Robotics can bring about fundamental change, and cobots can play a vital role in helping companies to adapt to the changes in the current landscape and make the technological and cultural adaptations needed in response to the fifth industrial revolution, Ms Torres points out.
"Consumers are asking more and more questions about the supply chain, the resources consumed by the industry and the working conditions and safety of the workers. On the one hand, there is this increasing consumer attention to issues such as sustainability, safety and quality at the right cost. On the other hand, the food industry needs to establish the rules of interaction between people and machines."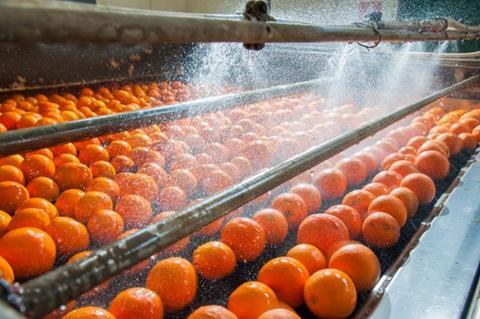 Robots to the rescue when adapting to the COVID-19 challenge
2020 was marked by the COVID-19 pandemic, and Ms Torres has observed that the pandemic has worked as an accelerator for the industry.
"This pandemic has proven that the manufacturing industry in general is still very dependent on manual human labour, but not necessarily the type of value-added tasks humans deserve and do best. The pandemic has deeply disrupted manufacturing operations and not all industries were well prepared to shift from a fully on-site model to an increasingly remote operation. COVID-19 only accelerated the adoption of automation and robotics technologies, which have proved to be the answer to build resilient businesses in this crisis."
Mr Loughran notes that the crisis has focused companies' minds on how they plan their machines for the future to be a lot more resilient to whatever challenge arises.
"A big part of resiliency is agility, and that resiliency will drive a rethink in how people design machines and use robots within them."
Some of the advantages of cobots really have come to the fore during the COVID-19 crisis, enabling companies to maintain their levels of productivity while still enabling workers to maintain social distancing, Mr Schlüter points out.
"For example, where two operators might previously have worked side by side, now they can be more easily separated, with the cobot forming the interface between the two and supporting both workers. Further, mounted on trolleys, cobots can be flexibly deployed in many different tasks around the plant floor, with different tasks enabled simply by selecting the appropriate program."
Looking to the future
Mr Schlüter is convinced that there is more to come from collaborative robots. As robot motion sequences become more complex, and the interaction with both humans and other robots more frequent, programming the motion sequences can become more complex.
"Mitsubishi Electric continues to focus on easier programming, while at the same time integrating self-optimization technologies to calculate the best motion path on-the-fly."
Mr Loughran predicts that the digital thread will become even more important from the concept and design stage across the entire machine life cycle.
"More focus will be put on product lifecycle management, and the emphasis will not just be on selling a machine or a robot, but also a service. This servitization of machines and robots requires agility. Customers will expect seamless, frictionless integration. On top of that, we'll also see an increase in remote connectivity and support, thus being able to monitor and provide feedback not just on performance but likelihood of failure, and take corrective action before it happens. At Rockwell Automation, we are always working with our packaging machine customers to be more secure, productive and more efficient."
Ms Torres points out that the 4th industrial revolution has opened new horizons for industrial automation.
"For robotics, this happened faster than we thought. Sensorization and machine learning are getting us increasingly closer to the autonomy required to make decisions that is associated with the factory of the future. But we are still at the start of the journey; we're not yet at the stage of realizing the fully autonomous machine/robot we have seen in fiction films, as high-level functions remain solely human tasks. But our developments are always in line with the words of our founder Kazuma Tateishi: 'To machines, the work of the machines, to humans, the thrill of further creation'."