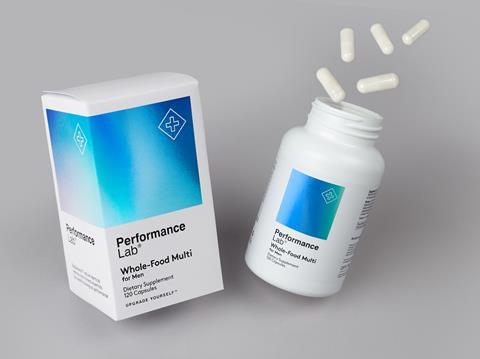 Strategic branding agency, Robot Food, was appointed to lead creative on a new range of high-performing supplements's confident identity and packaging design.
Comprising of both Performance Lab and Performance Lab SPORT, the range of vitamins and minerals is pioneering in its approach and wanted to be seen as a legitimate choice for those looking for more than what the heavily saturated category currently offers.
Robot Food started by getting to grips with the mindset of the consumer. Described as a 'lifestyle brand for performers', Performance Lab's scientifically driven formulas to 'enhance human performance in new dynamic ways' target everyone from the boardroom to the playing field.
Unlike other supplement brands, which felt apologetic in their design, Robot Food wanted to celebrate the confidence of the target consumer. The team came up with the strapline 'Upgrade Yourself' and took cues from the high-end cosmetics category to influence a premium look and feel that any high-flyer would feel proud to have on their desk or bathroom shelf.
Subtle substrate choices support a clean aesthetic, with small tactile details such as the logo embossing and vibrant holographic foil working hard to set off the simplicity of design. But it isn't enough to look good; the range had to be easy to shop and so unique colour gradients and a suite of variant-specific icons make up an effortless navigational system.
The end result is an identity and pack design that emanates the quality of the products inside, blending scientific precision with understated modernity.
Glen Thorpe, designer at Robot Food said, "We wanted the consumer to feel that the brand fitted with their lifestyle and met the same standard that they set themselves. For us, it was about trying to communicate the expertise and pioneering science behind the products and balancing that with a premium and considered brand aesthetic."