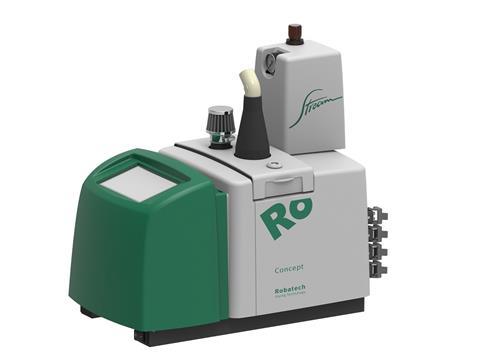 Flexible application
The EasyFix ideally adapts to your requirements, is suitable for practically any application and environment, and is quick to retrofit. Protection against overheating for bundled hoses minimizes the risk of adhesive carbonization and nozzle clogging. The EasyFix insert ensures optimal control of the constant hose temperature as well as high-quality adhesive application. Available in two different sizes, the EasyFix guarantees an extended service life, operator safety, and a constant hose temperature.
RobaFeed 3, the new generation of automatic filling systems for optimized safety and efficiency
The demands on automatic melter filling increase continuously. The focus is on efficiency, safety, and functionality. With the fully integrated, automatic RobaFeed 3 filling system, Robatech offers the ideal solution for safe and reliable filling of melting tanks with adhesive in granular form. It draws the exact amount of adhesive needed and also monitors the adhesive level within the tank.
Increased operational safety
The advantages of the RobaFeed 3: A significantly reduced risk of burns and improved shielding against harmful fumes ensure more safety for the operator. An optional tank lid lock prevents unauthorized access to the melted adhesive. With this self-monitoring system, classic operator errors, such as overfilling of the tank, are avoided. Production downtimes due to empty melting tanks are omitted as well. Continuous filling ensures a constant amount of adhesive. Gentle, needs-based adhesives preparation also reduces the risk of burns in the tank as well as nozzle clogging. With less effort required for filling and increased process reliability, the RobaFeed 3 ensures continuous production, saves on adhesive, and even reduces the energy needed for operation.
ILS intelligent level sensor – precise, simple, efficient
Intelligent sensors have long played a key role including in the realization of Industry 4.0 concepts. With the ILS, Robatech has developed a solution for real-time fill level visualization. The new sensor can be installed in the entire Concept series, not only monitoring the fill level, but also preventing the adhesive tank from running empty with its unique run empty protection. The adhesive level is continually adapted to the process. The adhesive type is automatically detected, preventing production errors thanks to a warning in the event of an excessive deviation from the reference adhesive.
High precision and efficiency The display unit is an efficient solution for many individual applications, meeting all requirements in terms of precision. Analyses also help streamline processes. This increase in adhesive application efficiency cuts costs while optimizing processes.
"This is just the type of possibilities our customers are looking for to boost their own added value and quality," states Kevin Ahlers, Manager Marketing and Communication at Robatech AG. "We offer them complete solutions and never stop thinking about how we can further optimize the adhesive process. Developments such as the EasyFix, ILS, and RobaFeed 3 are all part of this. With the new ILS, for example, our customers are capable of collecting and processing data sets from measurement data. Platforms such as these can help them cut costs while streamlining processes. With our innovative solutions, we want to make our customers faster, more efficient, and more flexible, preparing them for the future of production."
More info: