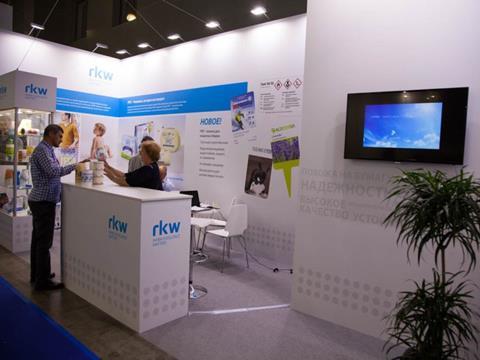 RKW showcased its packaging films based on FPO® at the RosUpack show that took place from June 26 to 29 in Moscow. At the show RKW demonstrated the versatility of their films for labels and tags.
The technical films are suited for a broad range of applications. As the original manufacturer of the innovative material with benefits in terms of sustainability, printability and barrier properties, RKW aims for further growth in the Eastern European market.
"Eastern Europe is a very important market and RKW is the market leader for this kind of film", says Peter Sevonius, Sales Manager FPO® at RKW. FPO® (filled polyolefins) is a special film with more than 50 percent natural minerals. It is commonly used for packaging wraps or lamination films. "This time we introduced films for labels and tags to show potential users the technical advantages of the material in different applications", explains Peter Sevonius.
The label and tags film can be used in many areas of everyday life. From hotel door hangers to plant labels in the garden – the range of applications is almost limitless. FPO® is water-proof and resistant to many chemicals. In addition, FPO® offers a great surface for excellent high-quality printing, which is a hard to beat strength in comparison to other alternatives. Due to its high mineral content, FPO® compares extremely favorably to traditional film choices for labels and tags in terms of environmental sustainability.
"RKW is the pioneer of exceptional films with a paper-like feel and has 30 years' experience of producing FPO® films and compound," says Peter Sevonius. "Many visitors at RosUpack have confirmed the market position of FPO®. With the FIFA World Cup taking place in Russia at the same time, we were happy to notice such a high interest around FPO® for various applications." RKW sees significant potential for further market growth in Eastern Europe.