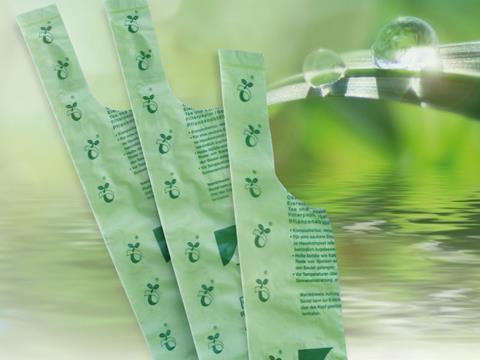 RKW is launching a biodegradable star-sealed bag for organic household waste in Germany. Certified as fully compostable by DIN Certco, it is also the first T-shirt starseal bag available on the market made of more than 50 percent from renewable materials. It mainly consists of starch and polylactic acid (PLA), and other biodegradable components.
In addition, the star-sealed bottom of the bag delivers a high value in use for the customer as it prevents liquids from leaking. The bag is produced at RKW Vietnam in Ho Chi Minh City. For RKW, sustainability is an integral part of its business mission, and the use of biodegradable films or films made of renewable resources is getting more and more important for RKW.
The disposal of organic waste from kitchens has always been a challenge for households: conventional plastic bags cannot be disposed along with organic waste, paper bags tend to soak through over time. Now, film manufacturer RKW has launched plastic waste bags in Germany that are fully compostable and thus suited for organic waste. The bags will be supplied by major retailers.
"With the first T-shirt starseal bags that are compostable and consist of more than 50 percent from renewable materials, RKW is a pioneer on the market," says Manh-Hung Ngo, Product Manager at RKW Vietnam. "So far, bags with approximately less than 40 percent renewable content have been available in markets such as France or Italy. We were able to design bags with a significant higher proportion. Hence, these waste bags are another milestone towards a more sustainable future." The main components are starch, deriving from corn, for instance, and PLA. The bag is fully compostable and certified to European standard EN13432 by the DIN Certco institute in Berlin (Germany). RKW Vietnam, which is specialized on consumer packaging, produces the compostable bags.
Advantages for the customer
The new waste bags are highly practical and offer several advantages to the consumer. For organic waste, most people normally use paper bags which are fully biodegradable. But as a downside, they are likely to turn soggy and tear easily when taken out of the bin. Here, RKW's star-sealed bag provides an enormous benefit as it doesn't need to be removed from the waste and thus makes the disposal of organic waste much more convenient. It features carrying handles that can be used to tie the bag, and a star-sealed bottom that consumers know from conventional plastic-based trash bags.
As a result, the bag is suited for bins with different shapes and prevents the leakage of liquids. Multiple layers strengthen the bottom, avoiding damage to the bag. Combining the practical features with benefits in terms of sustainability, the new bags are a more environmentally friendly and a convenient option for consumers. Moreover, RKW proves with the star-sealed biodegradable bags its strong commitment to develop products in accordance to sustainability criteria.