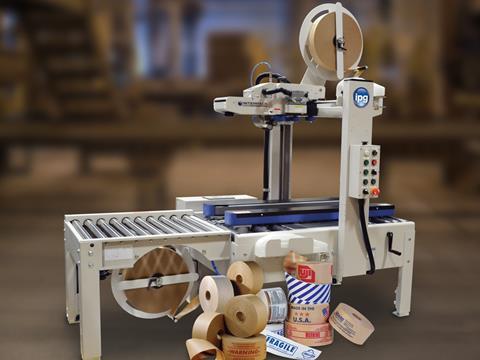 Since its foundation in 1981, Intertape Polymer Group has grown to become one of the leading packaging and Industrial tape providers in the United States. Specialising in tapes, films and machinery, IPG is uniquely positioned to service the changing needs of a host of industrial clients with specific needs. Elisabeth Skoda speaks to James Apap Bologna, the company's VP for marketing and corporate communications, to find out more.
IPG is a key player in the development, manufacture and sale of a variety of paper and film based pressure sensitive and water activated tapes, polyethylene and specialised polyolefin films, and complementary packaging systems for industrial and retail use. Its broadness and diversity make the company stand out.
"IPG is the only company capable of servicing the market with hotmelt, acrylic, natural rubber and gum tapes together with stretch films and shrink films. The company also offers a range of flap folding and carton sealing machines. In the area of industrial tapes, IPG offers masking tapes, duct tapes, filament tapes and double coated tapes. This allows IPG to hone in on its customer's unique needs and to truly solve the 'end of the line' packaging requirements of its changing industrial base," Mr Apap Bologna says.
Ahead of the competition
IPG's focus has always been on solving the unique needs of its customers. "IPG places itself at the forefront by thinking outside the box. By gearing up its offering to address the needs of its customers, IPG assembles customisable solutions like no other supplier," Mr Apap Bologna explains.
He uses a solution for the fast-growing electronic fulfilment industry as an example: "IPG has patented technology with 'Auto H2O', a semi-automatic water activated (gum) taping machine designed to deliver automation and secure packaging where it is needed. Couple that with IPG's ability to custom print water activated tape to the customer's delight, together with being able to deliver modular solutions with a host of table top gum taping machines under its world renowned Better Packages brand, and it's clear that IPG stands head and shoulders above its competition in delivering a 'Better Package' to this industry."
Innovations at interpack 2017
IPG is looking forward to harness the exciting prospects the European markets are offering and will be exhibiting at interpack as the parent company to Powerband, and will showcase Better Packages in partnership with Hade.
"At the Powerband stand there is activity around two distinct messages: IPG's ability to service packaging needs tied acrylic and hotmelt tapes in conjunction with IPG's Portugal-based Fibope SA's production of technical shrink films," Mr Apap Bologna points out.
At the Hade stand, the company's offering will include an entire range of performance water activated (gum) tapes.
"IPG is uniquely positioned to custom print branding on its gum tape which reduces the customers cost of operation, and delivers brand equity to every doorstep. This function adds to the customer experience and inspires repeat purchases. IPG's Better Packages brand will be prominently displayed at the Hade stand, featuring both manual and electric water activated tape dispensers which are built to last and designed for ease of use to ensure productivity and fulfilment continuity," he adds.
He sees great opportunities for the packaging industry to flourish in the coming years. "It's an exciting time to be in the packaging industry. The manufacturing industry in the Western world is showing signs of renewal. Robotics are going to play a more prominent role in the packaging process. Manufacturing will come back faster, smarter, stronger, and automation will be key. There are big opportunities for innovators, and our business will hopefully grow in step with the evolution that we see in other types of packaging. There is symbiotic relationship between product development, packaging development and ultimately the end of line solution that IPG provides," he concludes.
Visit: www.itape.com