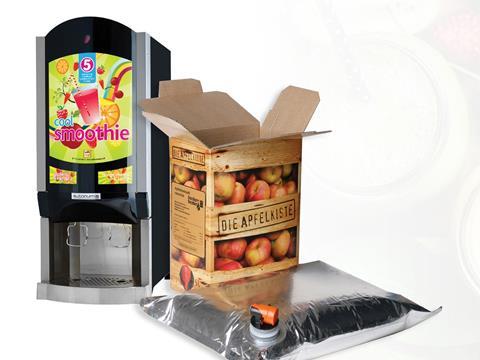 The new solution which includes VINIflow™ dispensing tap and special monolayer bag for hot filling makes Flexible Packaging a more attractive and hygienic solution for juice producers.
Rapak Flexible Packaging has been widely used for juice since the 1970s. According to Transparency Market Research, the juice Flexible Packaging market is estimated to be valued at $62.6 million in 2018 and is expected to reach $102.6 million by the end of 2024, expanding at a compound annual growth rate(CAGR) of 8.6% over the forecast period.
Rapak, part of DS Smith Plastics Division is one of the pioneer manufacturers and suppliers of complete Flexible Packaging solutions for juice. DS Smith value proposition includes Rapak Flexible Packaging bags,dispensing taps and outer cardboard packaging as well as Flexible Packaging filling and case forming equipment.
This year, DS Smith Plastics' Rapak is announcing two major innovations for the juice segment:
A new VINIflow dispensing tap for Juice
VINIflow is a popular dispensing tap that offers convenient pouring, excellent oxygen transmission rate(OTR) and directional flow. The new dispenser for juice and soft drinks features an aseptic tab seal and is hot fillable. VINIflow aseptic tab seal is a value added feature for juice producers who use water baths to cool bags after hot fill and require a closed nozzle area to prevent contamination build-up. VINIflow's aseptic seal ensures hygienic filling and food safety.
At IPACK-IMA Milan, Rapak will also be featuring their additional portfolio of dispensing taps, tubes and fitments for Flexible Packaging juice tailored for the food service industry and dispensing machines.
A New Monolayer bag for hot-fill juice
With the needs of hot fill juice producers in mind, DS Smith Plastics' Rapak developed a new monolayer bag for Rapak Flexible Packaging. As opposed to traditional twin-ply bags where patches of air are trapped between layers making it look uneven and unflattering; no air gets trapped in this single ply bag. The new bag is ideal for hot fill applications since it prevents contamination of condensation in the bag layers, while also preserving the original colour and an appealing look of juice. Rapak's monolayer bag is made of Nylon EVOH laminate and is manufactured at their Schwetzingen, Germany facility. It is EU and FDA approved for direct food contact and it is free from phthalates, heavy metals and Bisphenol A.
Hot-fill is an inexpensive and conventional technology that gives a robust, extended-life performance at ambient temperature. Rapak offers high speed cost-effective Autokap™Flexible Packaging filling equipment for juice, nectars, soft drinks and fruit particles.
Rapak will present these innovations at IPACK-IMA 2018 Milan, Italy, May 29-June 1. Stop by DS Smith in Hall 10, Booth B02 C01 to see their complete offer of Rapak Flexible Packaging, filling and dispensing solutions.
More info: