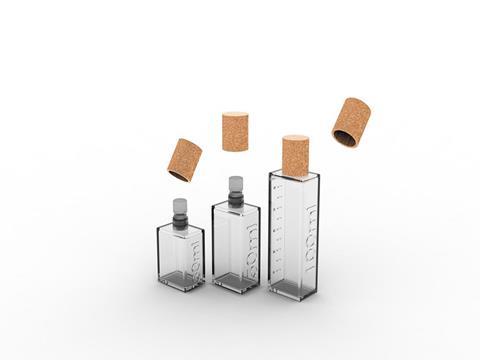 Quadpack's Eco-warrior is a new concept that seeks to respond to the winds of change – a full pack with a minimal number of components where the cap can be both composted and recycled.
Aiming for as little environmental impact as possible, Eco-warrior is made of a slim glass bottle that reportedly makes the pack 13% lighter than a regular pack, reducing carbon footprint in transportation while maintaining resistance.
A screw neck ensures the pump can be easily separated from the bottle, making both the aluminium and glass components relatively simple to recycle and reuse. The one-piece cap is made of flexible, biodegradable cork, collected from sustainably managed forests. Likewise, all the materials from the pack are sourced and manufactured in Europe.
Isabelle de Maistre, head of the Fragrance Division said: "This newest star of our fragrance portfolio is part of our proprietary Q-Line range and entirely designed in-house, a collaboration between the Fragrance Division and our Design & Advanced Technologies team. Eco-warrior is the most extreme, yet simplest product of our sustainable offer, transforming abstract concepts into reality through tailored industrialisation."
In order to limit the number of manipulations and enhance refilling at the right dosage, the Eco-warrior bottle can be directly engraved with the liquid capacity, avoiding the need for a sticker or another component to indicate volume.
Eco-warrior will be commercially available from Q1 in 2020.