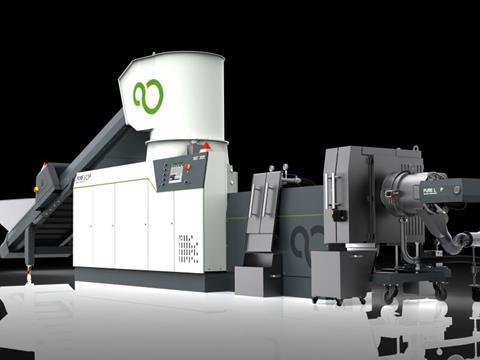 "Start me up" is the slogan for visitors to the NPE 2018 show from 7 to 11 May in Orlando when they have the opportunity to put the material all-rounder ISEC evo 102 to the test in a live quality check. The system will be processing LLDPE film, PE hollow bodies and PE lumps to make high-grade recyclates.
With an ISEC eco 102 live in action, PURE LOOP will once again demonstrate at this year's NPE show what the material all-rounder has been known for since the company was founded in 2015: maximum flexibility. The combination of the double feed ram system and single shaft shredder processes solid plastic parts or hollow bodies, rolls or punching waste as well as lumps or trims to make high-grade recyclates. US blown film manufacturer Laddawn has been convinced by the system ever since the last NPE. Following the purchase of the 2015 NPE demonstration plant and two further ISECs, this year's demonstration plant will likewise be shipped to the company's production facility in Texas immediately after the show.
The fact that PURE LOOP is on a successful course is also reflected in the degree of customer satisfaction, as can be seen clearly at The Toro Company in the USA, for example. Toro is a leading worldwide provider of innovative outdoor solutions for lawn maintenance, snow clearing and agricultural machinery and its portfolio now also features irrigation systems. Customers include – among others – golf courses, building contractors and sports fields. An ISEC 101 has been in use at the Texas plant for two years for the processing of production waste from irrigation hose. The recyclates which are made are put back directly into the production process. "Even temperature-sensitive mixed PE plastics – such as in the case of irrigation hose – are no problem for the ISEC. It stands out through easy handling and virtually autonomous operation, integrating itself seamlessly in production," says Manfred Dobersberger, CEO of PURE LOOP.
More info: