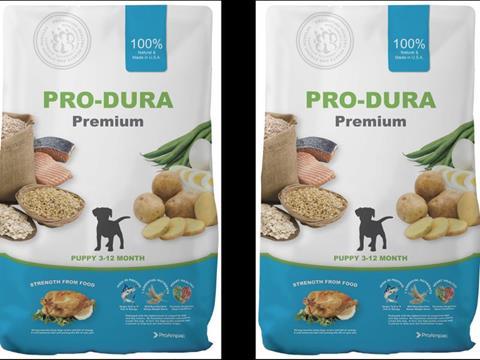 Calling PRO-DURA Premium the "perfect premium pet food packaging solution," the company said the new packaging combines the strength and durability of their current PRO-DURATM woven bag material with the appeal of a premium, film-like exterior finish providing enhanced store-shelf presence.
PRO-DURA Premium solves common multi-wall bag challenges, such as bag breakage, product spillage and wrinkled appearance on the store shelf, and runs on existing multi-walled bag machinery with minimal equipment change required. Convenience enhancing features such as easy-to-open and reclosable openings add to the PRO-DURA Premium bag's customer appeal.
Additional benefits of the PRO-DURA Premium bag are the option of a thermo-seal weld. This option provides increased machine efficiencies and 25% more bags per pallet over standard multi-walled paper hot melt glue methods. In addition the optional thermo-seal weld offers extra protection from external environmental factors.
"PRO-DURA Premium is indeed the right product at the right time given rising consumer demand for premium pet foods," states Julie Conklin, ProAmpac's Market Manager for Pet Food.
"With pet food premiumization steadily growing, this product addresses our customers' needs for a premium packaging solution that provides durability, affordability and quality. Requiring minimal changes to woven or multi-wall paper production lines is a huge cost benefit for our customers," she added.
Pro-Dura Premium is the latest addition to ProAmpac's comprehensive pet food flexible packaging product portfolio. Products are on display at the ProAmpac stand Hall 9 / E28.F27.
More info: