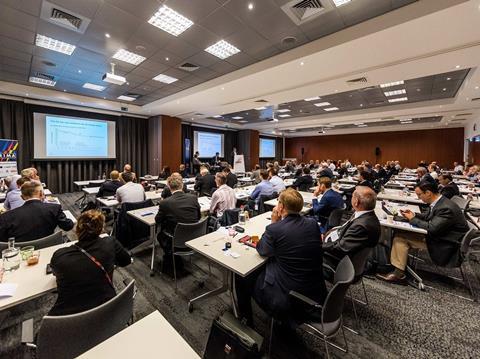 Now in its 50th year, the PRIMA conference is more than just an event. Over the years, PRIMA has established a reputation as the go-to network hub for the entire fibre value chain – from forestry, minerals and chemicals companies through pulp and paper makers to merchants, publishers, printers, packaging producers and consumers of paper and board products.
The conference, taking place this year in Prague, Czech Republic from 17-18 September, brings together industry leaders from the paper, print and packaging sectors for a two-day learning and networking experience like no other. Delegates can expect a carefully researched programme addressing the latest updates, innovations and challenges making the biggest impact to business, plus over 8 hours of dedicated networking time outside of the conference room.
As September fast approaches, some of this year's expert speakers, including Rupert Taylor, Head of Corporate Advisory at NatWest, Berry Wiersum, Chief Executive Officer at Sappi and Natasha Valeeva, Analyst - Food And Agribusiness Supply Chains at Rabobank share their thoughts on the main opportunities and challenges facing the industry today, and what they plan to address during their presentations.The strapline for this year's PRIMA conference is 'chaos creates opportunity'.
How would you summarise the main opportunities and challenges facing the pulp/paper/paperboard sectors?
Berry: This is a very exciting time for the pulp and paper industry. We are living through a period of intense innovation – not just in our industry, but generally. In the past these sorts of periods have brought high economic growth and although the current economic climate looks rather gloomy, we may well find that innovation turns it around. There are perhaps two main drivers of innovation today: Digital Technology and Sustainability.
In our industry it is happening to both product and process; on product due to online shopping and replacement of plastic packaging and on process due to the need to use the whole tree to generate materials and to remove CO2 emissions from an otherwise clean process. In both cases it's a race; we should not underestimate how plastic will fight back; the chemical industry is one of the world's great industries, extremely rich and highly influential as well as innovative.
On the process side, due to our energy consumption we are on the Energy Intensive Industries list, which means we get special attention of the wrong kind. Our industry challenge is how to get off that list and that's going to take some fundamental innovation. It's hard to do and will require industry-wide co-operation. It's also, potentially at least, a major balance sheet issue and some pretty concentrated high level thought is going into solving that one. Chaos does indeed threaten, but if we get all the moving parts right there is a giant opportunity waiting for us over the next 30 years.
Rupert: There is a material opportunity for the fibre-based sector over the coming years. The way we trade and consume is changing and this sector can play a significant part in not only responding to, but driving that. The opportunities are clear: increased brand and consumer demand for packaging sophistication and functionality, increased trade and ecommerce and increased environmental awareness and regulatory challenge.
Fibre-based businesses can position themselves to take advantage of both underlying market growth but also substitution from other substrates. The opportunity is large and immediate. However, meeting it will require a focus on innovation: to design and produce the packages and barriers of tomorrow, a focus on cost to ensure fibre-based solutions are as competitive as they can be with other substrates, and a focus on recyclable and sustainable solutions.
What key issues are you hoping to see discussed across the two days of the conference?
Rupert: I am keen to hear how paper can respond to plastics challenges, how the industry is thinking about improving recyclability, and what brand owners are doing to ensure aspiration meets reality in terms of sustainability over the coming years. I'm also eager to hear from the industry's leaders on how they are positioning their businesses for the future.
Berry: I look forward to thoughtful discussion of world markets and how geopolitical influences will affect them; thoughts on environmental legislation and how it will affect the industry; the future markets for pulp; the development of Artificial Intelligence and maybe some content about the growing attractiveness to the next generation of our industry.
Can you provide a brief summary of what you plan to speak about in September?
Natasha: Recent changes in China's recovered paper (RCP) policy have already disrupted the country's corrugated packaging growth and global RCP and packaging markets. A potential import ban for all RCP by the end of 2020 could trigger a new round of disruptions. My presentation will address the impact of these policies on China's domestic and global paper packaging industry. I will especially focus on how market players along the supply chain, both in China and globally, adopt their strategies in these changing market conditions; what are the challenges, opportunities and potential solutions?
Berry: In my seven minutes I will cover mainly transformation, both for Sappi and for our industry. I will explore what we think it takes for a successful transformation, but also how markets, customers and legislators are forcing us to transform anyway. There's no choice, so we had better enjoy it!Rupert: I intend to look at the recent financial performance of the fibre-based sector and to look at how the shifting strategic focus of various fibre-based groups is making them a more attractive investment. Furthermore, I intend to spend some time on the attraction of the sector as a financial investment.
Packaging Europe readers can claim a 10% discount on their conference ticket using code PRIMA19PE