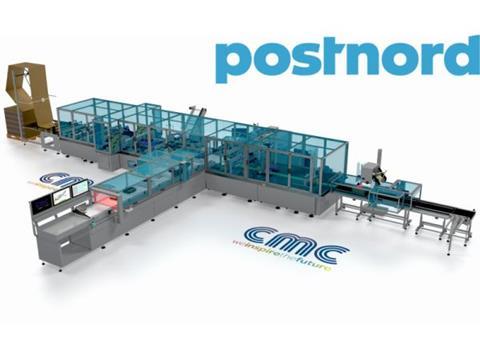 CMC srl has announced that PostNord, the leading postal carrier that supplies communication and logistics in the Nordic Region has awarded the Italian company the Tender for the supply of a CMC Cartonwrap box on demand machine.
The machine will be installed in their Ljungby Distribution Centre that offers 3PL services for a number of retailers in Sweden, Denmark, Norway and Finland and will assist PostNord in boosting their capacity and capability by fully automating packing operations.
Their manual process had become increasingly time consuming. They were using as many as 25 different types of packaging and lots of void fillers to compensate for empty space in the boxes. As a result, the costs for managing their inventory and storing space were dramatically increasing.
The challenge was to find a solution capable to optimise their process, simplify their inventory management and reduce volumes.CMC Cartonwrap creates a perfect size box to each order every 3.6 seconds, eliminating void fills and reducing dimensional weight.
The box panels are safely sealed with hotmelt glue, by guaranteeing product security. This will save Postnord 1,3 M meters of tape and 3 M meters plastic band used to close the package.
Francesco Ponti, CMC CEO commented: "CMC CartonWrap has been very well received by the major retailers and 3PL worlwide. And we are honoured that PostNord is the first postal organisation to install the CMC Cartonwrap technology."
"We have collaborated with CMC previously, but at PostNord Strålfors. In our experience, CMC supplies high-end machinery that matches our needs, as we distribute large quantities of customer shipments daily," says Sylvia Sundell, Regional Manager, Region Ljungby PostNord TPL AB.
"By installing CMC Cartonwrap, we enable a more efficient packaging process with less manual handling. We also save on packaging materials for our customers because the boxes are custom-made according to the product being shipped and because we don't have to use filler materials. Another big plus is that the boxes in CMC Cartonwrap are very impact-resistant, which reduces the risk of damage to the shipments. This is a good investment that ensures greater efficiency and quality, which is also beneficial from an environmental perspective," Sylvia concludes.
More info: