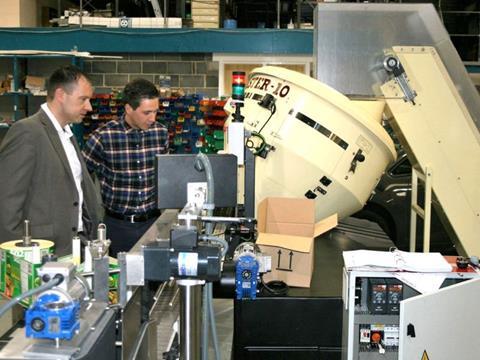 Unscrambling plastic bottles without damage and orientating the bottles onto the infeed conveyors has been continuously developed by Posimat over many years, making them the market leader globally for this important part of the filling line.
Posimat were the leaders in PET unscrambling for the soft drinks and water industry prior to the markets going for a blow fill concept, the knowledge gained at the very high speeds required allowed the company to develop unscrambling systems for any industry wanting to unscramble plastic containers from 100ml to 5 litres.
In the UK Posimat has been represented by Krones UK for many years. This has been a record year for sales into several interesting markets. In early 2016 Jonathon Stewart was appointed, by Krones UK, to lead the agency sales notably Posimat and Zalkin and to develop relationships with UK based OEM's in the non-beverage sector.
Early this year, Mount Packaging of Dewsbury contacted Krones UK, with regards to a project for one of their existing clients in the adhesive market, to discuss a Posimat unscrambler for a new line that is due for installation in August. Michael Rushworth, Managing Director at Mount Packaging commented, "I contacted Jonathon who invited me to their Bolton Headquarters. I was very impressed with the Krones UK business. Clearly, they have an in-depth knowledge of the plastic bottle market and a great support team for after sales and service. I had a look at a number of other unscramblers, but very quickly decided that linking up with Krones/Posimat would be ideal for this project and when I visited the Posimat factory in Barcelona it confirmed my view that they are the best in the business."
Michael continued, "We ordered the Posimat Master 10 for the start of the line that included a labeller, 4 head volumetric in-line filler, capping machine, outfeed rotary table and conveyors that were pre-assembled in our factory. The brief from the client was a line that could handle 8 HDPE bottle sizes from 75ml to 1 litre, filling adhesives along with the application of various complex caps. The first thing that really impressed me was the changeover times on the Posimat, as little as 30 seconds simply at the touch of a button. Over the 27 years of being in business, we have had great success in the Oil industry with clients such as BP Castrol, Total and Shell, in Paints, Akzo Nobel, PPG, Sherwin Williams, Printing Inks, Sun Chemical, BASF and adhesives Henkel, U-Pol, Sika and all Blue-Chip companies who require reliable and long-lasting equipment. I believe we have found a great partner in Krones UK as our client base moves further into plastic containers."
Jonathon Stewart concluded, "My brief, when I started, was to develop relationships in the non-beverage sector either directly with clients or with OEM's such as Mount Packaging. We have had an excellent year for both Posimat and Zalkin products and the technical support that I, and our customers, receive from the team at Bolton gives us a real edge. It is also interesting for my colleagues to be looking at other industries outside of beverage.
More info: