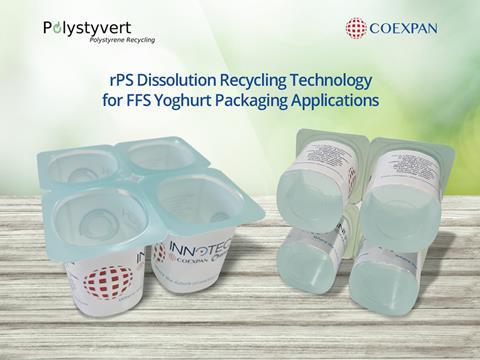 Polystyvert has collaborated with COEXPAN to validate the use of its dissolution rPS for Form Fill Seal (FFS) yogurt packaging applications, with the next step being post-consumer waste trials following "promising" results with post-industrial recycled material.
During the initial stage of the validation process, the companies say trials were conducted at Innotech, the Innovation and Technology Centre of COEXPAN and EMSUR, which apparently produced "positive results" for quality and processability.
The companies add that pellets tested during the extrusion process were post-industrial rPS and a monolayer structure with 100% post-industrial rPS. In the next stage of the process, the sheets were tested on FFS industrial yogurt packaging systems, before being analysed at the development centre laboratory.
Polystyvert claims that its purification capacity allows contaminants like pigments, papers, cardboard, and other plastics to be eliminated at the start of the process. This would mean the company can treat a variety of difficult to recycle feedstocks.
According to the company, Polystyvert's rPS passed the challenge and migration tests. Based on test results form the trial, Polystyvert was awarded a certification letter for food contact in the USA from Intertek, an independent laboratory.
The companies say that, following satisfactory results with post-industrial recycled material, trials with post-consumer waste will begin shortly.
Solenne Brouard Gaillot, founder of Polystyvert, comments: "We are very happy to partner with COEXPAN in order to set a circular economy in food packaging made of PS.
"We think PS is a valuable material and Polystyvert's technology is the solution of choice to tackle the challenges of closed-loop recycling."
COEXPAN opened its Innotech centre in partnership with EMSUR in 2019. Since then, COEXPAN has continued to develop innovative and sustainable packaging solutions, including its CorePET range, a 100% rPET tray that can be decontaminated for food contact use.
Meanwhile, in 2019, Polystyvert began trials in Canada for a recycling process using airpop packages separated out of the yellow sack scheme in Germany. The latest partnership with COEXPAN represents Polystyvert's ongoing commitment to innovating recycling streams for polystyrene and other packaging materials.
The last advances in Polystyvert and COEXPAN's development process, as well as real yogurt samples, will be presented at the Pollutec Trade Show 2021, running from the 12th to 15th of October in Lyon, France.