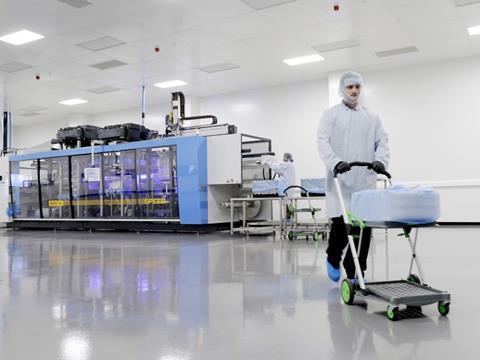 Over the last four decades Plastique have worked with Europe's leading multinationals to manufacture innovative thermoformed packaging, engineered to maximise revenue, reduce cost & increase speed to market.
Its manufacturing facilities in Nottingham, UK and Poznan, Western Poland are certified to ISO9001, ISO 14001 and BRC/IOP and produce packaging for a wide variety of sectors including cosmetics and toiletries, personal care, pharmaceutical, food & drink, electronics, component handling and retail.
In February 2016 Plastique was acquired by ESCO's Thermoform Engineered Quality LLC (TEQ) operating subsidiary headquartered in Huntley, Illinois. TEQ is a market leader in the development and manufacture of highly technical thermoformed plastic packaging with a significant position in the Medical and Pharmaceutical markets utilising cleanroom technology.
To expand their reach in the Medical/Pharma arena the group have installed a state-of-the-art ISO Class 7 cleanroom at Plastique's Nottingham facility to bring TEQ's experience in the manufacture of precision made custom thermoformed medical packaging to the European market. With TEQ's extensive knowledge of the sector and all design, sampling and full production tooling undertaken in-house by Plastique's highly experienced team, customers can rest assured of the company's ability to meet medical device and pharmaceutical manufacturers' most rigorous packaging requirements.
The new cleanroom facility will be certified to ISO 13485: 2016 and manufacture custom thermoformed handling trays suitable for high-speed production with automated assembly and transit. Handling tray solutions include auto-injectors, dry powder inhalers, Injection moulded components, prefilled syringes, pharmaceutical bottles and medical electronics. Other medical packaging solutions available include trays, procedure sets, clamshells, tubs, skin pack sets, covers, lids, sterile barrier blisters and seal blisters. And, being part of TEQ supply will be available to both European and Global customers.
In the coming months together with colleagues from TEQ, Plastique is planning to run a series of events for the medical device and pharma industry. These will take place at the Nottingham facility, be run in conjunction with industry partners and cover raw materials, specialist lidding materials & pouches, validation and sealing machines.
More info: