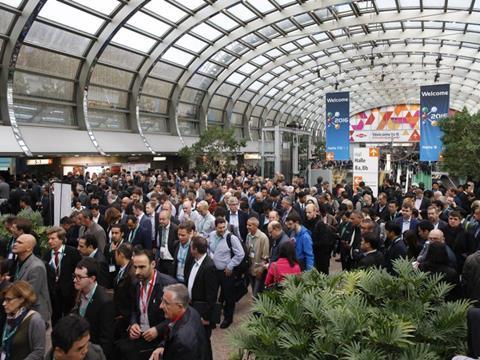 Helmut Huber: The focus of Brückner Maschinenbau as film stretching technology supplier is on the production of single-origin structures with the highest recyclability: All raw materials originate from a common polymer group and can therefore be recycled to high-quality re-granulate. These mono-material structures from PP, PE or PET meet the highest requirements for thermic and dynamic stability and display excellent barrier properties. Thanks to their minimal thickness, they are also extremely resource-efficient.
How do you make sure that your pack/packaging material is as recyclable/environmentally friendly as possible?
Haim Za'afrani, Husky: At Husky, we are heavily involved with PET and we see ourselves as a sustainability partner. We offer a range of solutions to enable the circular economy.
We are dedicated to making positive impact by aligning the goals of sustainability with the many positive attributes of plastic packaging. Husky focuses on designing not just the best package but one that can be easily recycled with our downstream partners. Cooperation is key. Our modular solutions are built on global platforms to incorporate PCR and evaluating new and alternative materials. We also focus on energy efficient equipment with the goal to be carbon neutral by 2025. On top of that we are also getting ready to generate alternative materials and alternative polymers. A lot of education and learning still must take place, but we have our innovative centre ready to deal with these alternative materials.
Bertram Stern: At Arburg we have been working for a long time on the range of topics associated with resource efficiency and circular economy because environmental protection and the gentle use of resources are deeply rooted in our corporate philosophy. Therefore we are engaging in this discussion, and not hiding from it: We have understood the problem, we have recognised its magnitude and we are contributing towards a solution with all our powers.
Our strategy in terms of resource efficiency and circular economy and all of these related aspects and activities can be grouped together in our "arburgGREENworld" programme, which is based on four pillars. The first three pillars refer to the quotations for our customers and go by the names of "GREEN machine", "GREEN production" and "GREEN services". The fourth pillar goes by the name of "GREEN environment" and incorporates our in-house processes associated with resource efficiency and circular economy.
Important topics for the three customer-specific areas are minimisation of the CO2 footprint of the machines, processing of recyclates and bio plastics, improvement in production efficiency, use of innovative processes as well as consultancy advice on all aspects of applications technology, resources and energy efficiency.
With two examples, Arburg shows practical future applications using recyclates at K 2019. The production of cups demonstrates that thin-walled moulded parts of consistently high quality can be produced when processing new PP material together with recycled PP. In the second application, a PCR material derived from household waste is used to produce a durable technical product.
Around 30 per cent recycled material is used in the production of PP cups. For this practical example of a closed circular economy, Arburg cooperates with Erema, which provides recycled PP. In a cycle time of around four seconds, eight cups are produced on a hybrid Allrounder 1020 H in Packaging version.
In the second circular economy application, a PCR material (post-consumer recyclate) derived from household waste is used to produce a technical product. The PCR available on the market is processed by an electrical two-component Allrounder 630 A in a Profoam foaming process, the second material is TPE. The injection-moulded part is a machine door handle whose two halves are mounted in the mould. This is followed by partial overmoulding with the soft component.
Helmut Huber: Our new BOPE line concept makes the production of mono-material films with superior mechanical and optical properties possible. These are excellent to sort in waste separation and are ideal to recycle. Additionally, we developed a new inline coater for the production of extremely thin functional layers. Due to the extreme thinness, the layers don't disrupt the sorting and recycling.
How does your company "make the case for plastics" by highlight its benefits, for example in the area of reducing food waste?
Helmut Huber: We have brought our own, Brückner Group wide campaign to life in 2017, called "Yes, We Care". This project is an acknowledgement to our responsibilities in the matter of plastics and sustainability. It includes the knowledge transfer for a better understanding of the needs and benefits of plastic and its correct use. Our corresponding information material (booklets, video, traveling exhibition) are in great demand.
Frank Schuster: We cannot and will not have a world without plastics. It is only through the use of plastics that we will be able to solve some of the great challenges of our time. This includes sustainable mobility, but also world nutrition. Intelligent packaging solutions extend the shelf life of food and prevent food from spoiling before it reaches the consumer in many countries with long transport routes and poor infrastructure. We cannot dispense with these packaging materials, which are necessary for product protection, and plastics as packaging material here are the most efficient solution in most of the cases, both in the energy and material footprint as well as in production and transport. The prerequisite is to create collection systems and recycling possibilities for packaging. In cooperation with other companies in the plastics industry, we will therefore use our experience and know-how to ensure that people in all regions of the world will be able to handle plastics responsibly.
Haim Za'afrani: We believe that plastics, and in particular PET, is the best packaging material available today, with its properties being optimal from a cost, weight, carbon footprint, food safety and consumer experience point of view. It contains no BPA and is 100 per cent recyclable. It also helps to prevent food waste. In summary, plastics is needed by society, but without plastics waste. Until a few years ago, the focus was on energy, something that seems to have fallen by the wayside today. After all, PET is lighter weight than aluminium and glass. If plastic packaging didn't exist, and somebody invented a new packaging material which is safe, light weight, can hold up to 100 times its weight, helps combat food waste and is recyclable – wouldn't people jump on that and think that it is great?