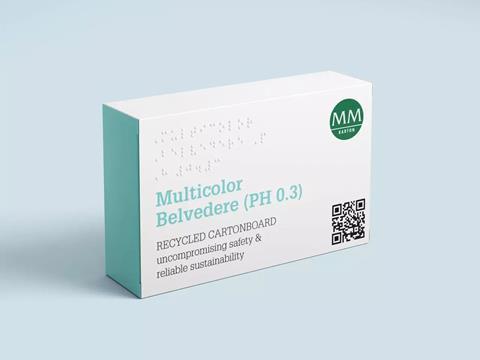 In a bid to address demand from the pharmaceutical industry for packs that address both safety and sustainability concerns, Mayr-Melnhof Karton has launched a new pack made from recycled cartonboard.
The new solution, Multicolor Belvedere, is produced in Mayr-Melnhof's Gernsbach facility in Germany, and is based on what the company describes as the European market's best-selling recycled cartonboard with a white reverse side.
Mayr-Melnhof says that the pack possesses optimum coding properties for inkjet and laser as well as creating ideal results for embossed Braille printing. Meanwhile, the solution also reportedly provides the recommended quality for pharmaceutical folding boxes bearing a 2D matrix code as an individual identifying feature.
This puts it in accordance with directive 2011/62 of the EU Falsified Medicines Directive as, since 2019, it has been mandatory for 2D matrix codes to be added to the primary and exterior packaging of all medicinal products.
In a statement, the company said: "The standards required of packaging for the pharmaceutical industry are some of the most exacting. In this heavily regulated sector, the protection of vital medical supplies must be ensured in order to guarantee their effectiveness and safety.
"MCB provides pharmaceutical companies with a new MMK packaging option that not only makes a positive contribution to sustainability, but also complies with the high safety standards of the pharmaceutical industry."
Together with Supra and Multicolor Mirabell, Multicolor Belvedere is the third recycled cartonboard suitable for pharmaceutical use in the Mayr-Melnhof cartonboard product portfolio.