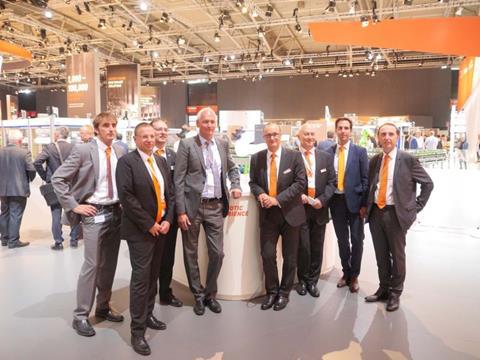 Gebo Cermex, part of the Sidel Group and a leader in packaging line engineering and material handling solutions, has recently signed a supply agreement with KUKA AG.
The contract was finalised in Munich at Drinktec 2017, the world's leading trade fair for the beverage and liquid food industry. Putting pen to paper for the agreement, were signatories Mr. Marc Aury, President and Managing Director of Gebo Cermex and Mr. Joachim Melis, VP Division Consumer Industries & Handling of KUKA, representing the German manufacturer.
Aury commented - "Gebo Cermex has been utilising the many capabilities of KUKA robotic machinery for palletising and depalletising functions within our solutions for the packaging manufacturing industry for well over 10 years now. In the past 12 months alone we have sold more than ten KUKA robots, with demand growing steadily. By signing this supply agreement, we are further extending the portfolio of robotic solutions available to our customers and ensuring the supply of unique capabilities, especially in terms of precision and compliance." He continued: "Together with our existing supplier, FANUC, we can now cooperate with two reliable, supportive and complementary players in the field of robotic solutions. By partnering with both companies, we will be able to ensure the optimum performance of packaging lines for customers. It will enhance our flexibility, enabling us to tailor solutions to specific individual needs, with a greater agility in providing the performance levels that our customers are looking for over the lifetime of their production lines."
Like Gebo Cermex, KUKA is a pioneer in Industry 4.0. One of the world's leading suppliers of robotics, plant manufacturing and system technologies, it produces a comprehensive range of highly modular industrial robots with various reaches and payload capacities from 3kg to 1300kg. The company's solutions allow manufacturers to integrate standardised systems and components into customised production processes. The automation components and function packages can be implemented in production systems either directly or with minor modifications but all are cost-effective, easy to integrate, tried-and-tested products.
Jean-Luc Imhof, CEO of KUKA France, Benelux, Maghreb, comments - "This signing represents an important milestone in our collaboration. With our wide product portfolio and experience in the consumer goods market we can offer the complete solution for this sector: standard industrial and collaborative robots, digital services and other Industry 4.0 technologies. Additionally, as a leading global supplier, KUKA provides all the necessary support for customers all around the globe. Based on these values that we share with our partner Gebo Cermex, we wish to pursue and reinforce the common developments of the key technologies for the consumer goods market."
The agreement with KUKA further extends the Sidel Group's capabilities in robotic solutions, with Gebo Cermex already working closely with FANUC, a global manufacturer of factory automation with almost 60 years of experience in the development of computer numerical control equipment and more than 19.5 million products installed worldwide.
Beverage producers need performance across their supply chains. Delivering this performance requires understanding of global trends, consumer markets, beverage supply chains and production needs. By fully capturing customers' markets, products, and value chains the Sidel Group - comprising Sidel and Gebo Cermex - can leverage the respective strengths and expertise of its business units and design solutions which embed future-proof technology, market-tailored innovations and performance-based services, ensuring long-term success. Part of this commitment is establishing working relationships with leading technology manufacturers and the signing of this agreement with KUKA is an excellent example.
More info: