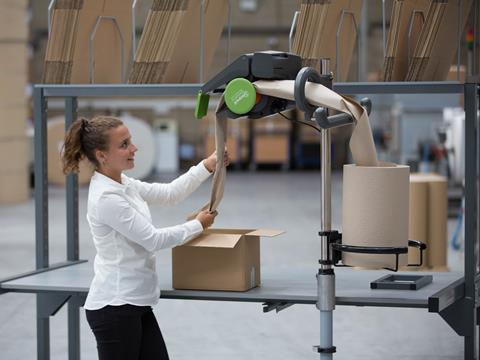 Easypack Limited, the UK's leading manufacturer of environmentally friendly packaging solutions, have launched a new high-speed void fill packaging system with new patented technology.
The NEW Quantum™XT is a fast void fill solution that allows users to firmly secure goods inside the box using 100% recycled, 100% recyclable, 100% biodegradable paper. The system is ideal for fast-moving online retail goods, items that have unusual shapes or sharp edges and for box-in-box void fill.
The patented, bladeless tear-assist has been cleverly designed to offer operators effortless, safe, high speed tear off. In addition, the patented telescopic head design offers more packing flexibility by allowing operators to adjust its height, its tilt and output direction for total ergonomic convenience.
With 400-660 metres of recycled paper on each roll, users can pack directly into the box continuously for faster output, with speeds of up to 1.8 metres per second. Paper rolls can be changed in seconds, maximising efficiency, and the rolls of paper can be easily stored, taking up minimal storage space either at point of use or in stock rooms, freeing up valuable warehouse space.
The Quantum™XT can help to reduce packaging costs as output can be totally managed by its user friendly control panel. Users can pre-select exact lengths and speeds and then control the output with a foot pedal. The compact, system can be wheeled to any location or affixed to a bench or work station for total convenience.
European Sales Director, Nick Wood, says "Quantum™XT is a real advancement in void fill packaging. The patented technology is designed to meet the needs of an ever-growing ecommerce industry, offering outstanding reliability and flexibility whilst at the same time being environmentally friendly – it's the perfect solution."
He went on to say "At a time when there is so much focus on the impact of packaging on the environment, businesses are having to look at ways to address this issue whilst maintaining total efficiency. Easypack offers customers the solutions to both of these issues, with the added bonus of being able to utilise our in-house design team who can seamlessly integrate our sustainable packaging systems with current packaging infrastructure".
Quantum™XT is the fourth new packaging system launched by Easypack this year, with further new innovations due out in 2018. The Company has gone from strength to strength following its acquisition by US packaging giant Pregis LLC last year.
Easypack also celebrated 25 years of packaging innovation in 2017, having led the way with its range of patented packaging solutions since 1992. It continues to be committed to manufacturing solutions that help all businesses to improve their packaging efficiency whilst protecting the environment.
More info: