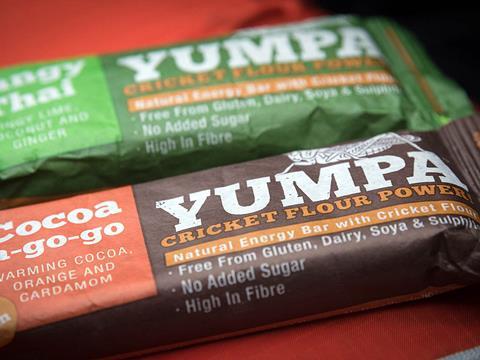 A compostable pack designed by leading packaging solutions provider, Parkside, for an energy bar made from powdered cricket flour, has won a global World Food Innovation Award 2017.
Parkside created a natural, sustainable pack, with both the packaging and contents being produced from plant based materials. The pack was crowned winner in the Best Sustainable category during the awards, held at IFE in London last month (March 2017).
Pete Ford, New Business Development Manager at Parkside, said: "Our customer, Next Step Foods Ltd., wanted to ensure that the natural benefits of its Yumpa product were fully reflected in the packaging used to wrap it. We worked together to deliver a solution that fully complied with the brief.
"Products such as the Yumpa bar, with its compostable packaging design, address an increasing desire from consumers who are seeking to purchase more environmentally friendly products. We are proud of this pack and what it offers to today's food and drink market. Conventionally flexible packaging has not been recyclable and has therefore ended up in landfill or incineration post consumer use. With the compostable pack from Parkside, we now have a truly sustainable option for brands and retailers to minimise this issue."
The judging panel at the awards considered 265 entries from 29 countries in 23 categories. The compostable pack beat off competition from One World Packaging and W-Cycle for their ovenable OK COMPOST containers and 'hotray' products respectively.
FoodBev Media marketing director Isabel Sturgess said: "This is the third annual World Food Innovation Awards, and every year we are fascinated by the real level of innovation that is shown within the entries. We see new flavours, new concepts, all the way to clever packaging and successes in environmental responsibility. The World Food Innovation Awards really showcase the best of the best in the global food and beverage industry."