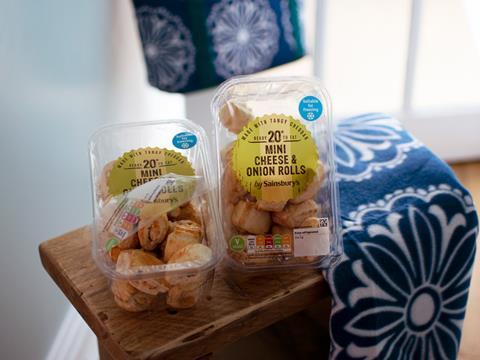 Parkside has once again collaborated with Addo Food Group, a producer of chilled savoury products, to create a recyclable, reclosable pack made from PET for its range of Sainsbury's mini sausage rolls.
The solution created by Parkside consists of a clear tray and a heat-seal lidding film laminate with built-in reclose technology, both of which are made from PET.
Suitable for sealing to APET trays, the pack also enables the consumer to avoid using additional plastic, such as cling film, to keep the food fresh during use.
According to Parkside, the design also delivers "improved barrier performance" to keep the product fresher for longer and utilises a single polymer design ideal for consumer recycling in existing waste collection systems.
Alexandra Maudsley, project manager at Addo Food Group, comments: "We recently collaborated with Parkside on a similar product, and we were very impressed with the quality, which prompted an extremely positive customer response.
"We strive to be innovators and industry leaders in the chilled savoury market and working with Parkside is enabling us to achieve that."
Maudsley adds: "We have spent a lot of time and effort understanding the needs of both our retail customer and the consumer, and the development of this pack provides them both with added waste reduction and sustainability benefits."
Staci Bye, new business development manager at Parkside, said: "After collaborating with Addo last year, it was great for us to be involved with the brand again and broaden our great working relationship.
"We are incredibly proud of the finished solution, which has enabled Addo Food Group to move to a complete PET solution, significantly boosting the recyclability of Sainsbury's packs."