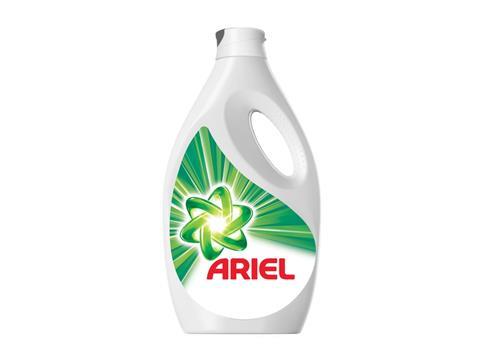 At the EuroPack Summit 2019 Volker Kuhn, Vice President Fabric Care Europe, P&G announced a significant increase of post-consumer resin (PCR) plastic in packaging as of 2020.
Ariel plans to increase PCR up to 50% in its liquid HDPE detergent bottles across Europe, available to buy from March 2020. This is another key milestone in reaching the Ariel 2030 Brand Ambition of reinventing a better clean, saving 50% resources, including virgin plastics, by 2030. Transparent PET bottles of Lenor fabric conditioner will aim to reach up to 100% PCR plastic and will be available early next year.
Earlier this year, P&G committed to huge plastic reduction across its Fabric Care brands (with innovations such as switching from tubs to bags), and now it is also committing to using 'better plastics' wherever possible. In fact, by increasing the amount of PCR plastic in the manufacture of Ariel and Lenor, from next year (2020) P&G will save the amount of virgin plastic required to produce one line of detergent bottles to go around the earth.
As Mr Kuhn said, "This is the latest in a series of commitments that P&G Fabric Care Europe has made under the mantra 'less & better plastics'. We believe that through innovation, education and collaboration we can truly be part of a 'cycle for good'. By increasing the amount of PCR in the packaging of our market leading brands like Ariel and Lenor, we are making another important step to offer more sustainable choices for our planet."
In April at the Sustainable Brands Conference in Paris, it was announced that Ariel, Lenor and other P&G Fabric Care brands across Europe aim to reduce plastics use in their packaging by 30% by 2025. Furthermore, P&G Fabric Care aims to make all its brands' packaging 100% recyclable by 2022.
Virginie Helias, Chief Sustainability Officer, P&G, comments, "This announcement is one of many examples of P&G's leadership brands innovating to inspire and enable responsible consumption. Actions such as increasing PCR plastics in Ariel and Lenor is critical to P&G achieving its commitment to reduce virgin plastics in packaging by 50% by 2030. Addressing the plastic waste issue is everyone's responsibility, and we're determined to drive a step towards circularity, so that no P&G packaging finds its way into the oceans or waterways."